Compact Excavators combine performance with light weight.
Press Release Summary: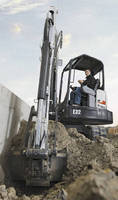 Respectively weighing 3.2 and 3.5 metric tons, E32 Conventional Tail Swing excavator and E35 Zero Tail Swing excavator employ load-sensing piston pump and closed center-valve system for smooth control of machine functions. Both M-Series models use X-frame undercarriage for optimal ground clearance and shedding of debris. Auto-Shift travel and Auto-Idle features are standard, as is integrated slew brake and 33.3 hp engine. Dig depth is 10 ft 2 in., and dump height is 11 ft 3 in.
---
Original Press Release:

New Bobcat M-Series Excavator Design Improves Performance, Operator Comfort and Maintenance



(WEST FARGO, N.D. - April 2009) Bobcat, the only company that manufactures compact excavators in the United States, once again brings innovation to compact equipment with the introduction of the new M-Series excavators. The new compact excavators are re-engineered to deliver increased performance in a lighter machine. Throughout each model are enhancements that save precious time and labor, make operators more comfortable and provide peace of mind.

The new E32 and E35 M-Series excavators are in the popular 3-to-4-ton weight class. These two machines follow the introduction of the new M-Series E80, which is in the larger 6-to-8-ton weight class. With the M-Series introduction, Bobcat is instituting a new numbering system for excavators. The new machine numbers now correspond to the excavator's weight in metric tons. For example, the "32" in E32 is for 3.2 metric tons.

Ultimate digging performance
Bobcat has completely re-engineered the design of M-Series excavators, reducing the weight to create a lighter machine. A new load-sensing piston pump and closed center-valve system deliver exceptional metering for smooth control of machine functions. With the new advanced hydraulic system, Bobcat was able to increase the arm breakout force by 10 percent over previous models.

The E32 is a Conventional Tail Swing excavator, and the re-engineered house has reduced the overhang by 45 percent from previous excavators of comparable size. The E35 is a Zero Tail Swing excavator that excels at working on space-constrained jobsites, such as next to buildings or other obstacles.

Bobcat designed the M-Series excavators to use X-frame undercarriages. This new undercarriage has increased ground clearance and enables better shedding of debris for easier cleanup when work is finished. Dirt and other debris easily pass through this undercarriage, making cleanup faster and leaving less debris on the trailers.

The new Auto-Shift travel on the E32 and E35 boost the machines' productivity. Auto-Shift travel shifts the machine out of high range and back automatically, which provides an on-demand power boost when pushing into a pile. Operators get more tractive effort without having to manually control the throttle or drive.

Backfill work goes faster with an accurate, productive angle blade. The E35 features an optional angle blade that provides simultaneous up/down and angle adjustment. Exclusive to Bobcat's angle blade is the bolt-on replaceable cutting edge that is easy to rotate and simple to replace, providing lower operating costs.

Quieter operation and all-day comfort
The E32 and E35 also include an Auto-Idle feature. The Auto-Idle feature, which can be enabled at the operator's discretion, automatically causes the engine to return to idle if the excavator's functions are not used for a period of four seconds. The machine automatically returns to the preset throttle position after the operator starts working again. When work is paused, fuel is saved and sound levels are reduced.

The new engine, air intake, cooling and exhaust systems, along with an entirely new pump and valve system lower sound levels, resulting in a more comfortable, quieter machine. The overall sound levels have been reduced by more than 50 percent. New directional lug tracks also offer a smoother ride.

Superior operator comfort
A significant contributor to excavator productivity is the comfort of the operator. Bobcat has designed the cab so the operator is comfortable in the machine, whether spending one hour or a whole day at the controls. On the new E32 and E35, the boom swing control has been removed from the floor and placed on a thumb switch on the left joystick, which is easier to operate and opens up space on the floor for the operator's feet. The new larger travel pedals also fold up for more floor space.

New adjustable armrests allow the operator to move the rests to a more comfortable position. For precise engine speed adjustments, Bobcat added a new easy-to-use rotary knob.

The new E32 and E35 excavators also feature an integrated slew brake. The brake eliminates the need to manually engage a slew brake when transporting the machine, and provides infinite brake positioning.

Options and specifications
Popular excavator options previously offered on Bobcat® excavators are still available on M-Series models, including long arm, enclosed cab, climate control, auxiliary hydraulics, angle blade and Hydraulic X-Change(TM) mounting systems for quickly switching between the 16 attachments approved for use on the machines.

A lockable toolbox and pocket console keep tools and paperwork close at hand and secure, while rear and side access doors and fuel fills are also lockable to prevent vandalism.

The E32 and E35 have 33.3 horsepower engines, dig depths of 10 feet 2 inches and a dump height of 11 feet 3 inches. The E32 has a reach at ground level of 16 feet, and the E35 has a ground-level reach of 16 feet 9 inches.

For the name of the nearest Bobcat dealer, visit www.bobcatdealer.com. For more information, visit http://www.bobcat.com/excavators/mseries.

QuickLook: Bobcat M-Series excavators


Auto-Shift travel automatically shifts to high-range for easier transport and turning of the excavator.

Auto-Idle feature decreases fuel consumption and overall jobsite sound levels.

Fingertip boom swing control is easier to operate and opens up space on the floor for the operator's feet.

Integrated slew brake offers infinite braking positions.

Overall sound levels have been reduced by more than 50 percent for quieter operation.

Entire machine is re-engineered to deliver increased performance in a lighter, more compact package.

Ten percent greater arm breakout force.

X-frame undercarriage sheds debris and prevents dirt from leaving jobsite.

Workgroup is redesigned for improved lifting performance and longer structural lifespan.

New hydraulic system provides smoother and refined cycle times.

Redesigned cab has more foot room and adjustable armrests for greater operator comfort.

Lockable toolbox and pocket console keep tools and paperwork close at hand and secure.

Daily maintenance points are simplified, centralized and easily accessed.

Rear and side access door and fuel fills are lockable to prevent vandalism.

More from Communication Systems & Equipment