Compact DPSS Nd:YAG Laser suits portable, handheld applications.
Press Release Summary: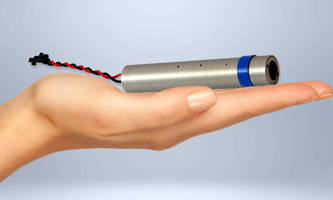 At 3 in. long x .50 in. dia and 40 g, MicroJewel Q-switched, Nd:YAG, DPSS laser delivers 8 mJ of energy at 1,064 nm. Features include space- and weight-saving inline resonator as well as integrated thermal management. Suitable for portable and hand-held applications requiring high reliability, this micro-laser delivers shot to shot stability with pulse duration of 7.5 nsec ±1.5 nsec. Other parameters include beam divergence of ≥3.0 mrad and beam diameter of 1.0 mm ±0.4 mm.
---
Original Press Release:
MicroJewel DPSS Nd:YAG Lasers
Ultra-Compact DPSS Laser

The MicroJewel is a DPSS, Nd:YAG  laser that delivers mJ of energy at 1064 nm. This micro-laser is 3" long, weighs 40 grams, and has a compact, inline resonator to reduce the space and weight limits on laser systems. It features integrated thermal management and low power consumption making it ideal for portable and hand-held applications that require high reliability. In addition, different optical configurations can be optimized for different parameters (divergence vs energy).

Public Company Contact Info:
Quantum Composers Inc.
sale@quantumcomposers.com
www.quantumcomposers.com
Bozeman, MT 1.800. 510.6530

To learn more about the MicroJewel Lasers please visit us on the web at www.quantumcomposers.com. Please direct any questions to Erin L. Prieskorn, Marketing Manager, at 406-582-0227 Ext122 eprieskorn@quantumcomposers.com.
More from Test & Measurement