Compact Dosimeter monitors workplace hearing dangers.
Press Release Summary: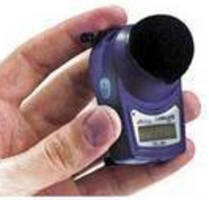 Model CEL-350 dBadge(TM) micro noise dosimeter measures employee noise exposure over working day and helps assure compliance with OSHA, NIOSH, or ISO standards. Attaching to shirt, overalls, or hardhat, it is operated via 2 side buttons and includes display and indicating LED. It has 64 KB memory, storing 180 hr of data, and captures time history for every noise event, logged in 1 min intervals. Unit's software allows generation of user-defined databases for reporting.
---
Original Press Release:

Casella Micro Noise Dosimeter Helps Pinpoint Workplace Hearing Dangers



AMHERST, NH - According to the National Hearing Conservation Association, 30 million Americans are exposed to hazardous noise on the job. This means that U.S. workers have a substantially greater risk of developing permanent, incurable hearing loss or tinnitus than do the workers of almost every other nation.

To combat these dangers, Casella USA, the North American subsidiary of worldwide measurement leader Casella CEL, offers the CEL-350 dBadge(TM) micro noise dosimeter. Amazingly compact and lightweight, this breakthrough safety tool is designed to measure the noise exposure of an employee over the working day to uncover dangerous areas and to assure compliance with strict OSHA, NIOSH or ISO (European) regulations.

An employee can comfortably wear the compact CEL-350 dBadge all day by attaching it to a shirt, overalls or hardhat. There are no microphone cables to damage or get caught up in, nor is other external equipment required. In fact, the instrument is operated with only two buttons located on its side. Once in operation, the unit captures a time history for every noise event, including average noise level and peak value, which is logged in one-minute values for later analysis. Its 64kB memory stores up to 180 hours of data.

Built-in Display

The dBadge has a built-in display, a first for dosimeters its size. The display makes it easy to perform calibration, while also providing status information and key measured data. In addition, there is an ultra-bright LED that gives a visual indication of when exposure action levels have been exceeded by flashing at different rates.

Downloads to PC

Industrial hygienists or safety officers looking to perform analysis of workplace noise begin by downloading the measurements stored in the CEL-350 dBadge into a PC. Report templates supplied with the dB35 database software supplied with the unit allow for generation of user-defined databases. Data is viewed according to ISO and OSHA measurement protocols, or in displays customized to a specific user's own requirements. For larger organizations, data can be shared with colleagues anywhere in the world using the software's import and export feature. It can also be imported into different programs for reporting.

Durable Design

The CEL-350 dBadge is a robust instrument engineered to withstand the wear and tear associated with industrial environments. It is manufactured using the same material as is used in many automobile bumpers. Also, since the controls can be locked, the risk of tampering or misuse is considerably reduced. An intrinsically safe (IS) version of the dBadge is available for use in hazardous locations, such as petrochemical plants.

Battery Capacity

The unit's built-in NiMH rechargeable battery pack will run for up to 32 hours, giving four 8-hour shifts under normal conditions. Recharging takes only 90 minutes.

For more information, please call 800-366-2966 or email info@casellausa.com. On the web at www.casellausa.com.

ABOUT CASELLA CEL

CEL Instruments have been manufacturing high quality instrumentation for the measurement of noise and vibration since the early 1970's. Originally formed from the company Computer Engineering Limited, a British company specializing in the design and manufacture of computer related equipment, CEL rapidly became well known for designing state of the art noise products in the UK. In 1998, Casella acquired CEL Instruments, manufacturers of innovative noise monitoring equipment. The natural synergy formed from this integration allows the combined new company, Casella CEL, to offer a broader and more comprehensive product range to both the occupational and environmental market sectors. Casella Measurement products are exported worldwide through an extensive network of distributors and agents. With measurement division offices in North America (in New Hampshire), in Spain (in Madrid), and recently in China (in Beijing) and with further expansion planned, this confirms Casella Measurement as a truly international organization.

®2009 Casella CEL. All product names and trademarks belong to their respective owners. Information in press releases, including without limitation product, specifications, and contact information, is current on date of the release, and is subject to change without notice. Reseller prices may vary.

Casella USA | 17 Old Nashua Road, #15 | Amherst | NH | 03031

Media Contact:

Bob Selwyn

Casella USA

603.672.0031

bobselwyn@casellausa.com

More from Machinery & Machining Tools