Compact DC Power Relay can switch up to 450 Vdc, 10 A.
Press Release Summary: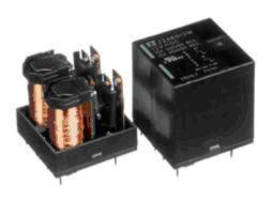 Measuring 24 x 23.5 x 27 mm, FTR-J2 is 2 Form A relay that can be used in circuit with configuration of 2 x 200 Vdc and with configuration of 1 x 450 Vdc. It can handle inrush current of 150 A (capacitive load) and features insulation between contacts and coil, with insulation distance of clearance/creepage greater than 6 mm, dielectric strength of 4,000 Vac, and 10,000 V surge strength. Also included, 2 strong permanent magnets extinguish severe breaking arc to ensure safety.
---
Original Press Release:

Fujitsu FTR-J2 - Ultra Small High Voltage DC Relay



Hoofddorp, February 2009 - Fujitsu Components Europe B.V., releases the FTR-J2 relay; the high voltage DC power relay.

Power is the keyword to describe the FTR-J2. The power is demonstrated in the relay's capability of switching 450V DC, 10A. Having the capability of switching these high voltages one could expect that the relay dimensions would be very large but the FTR-J2 surprises because of its small size. The relay measures just 24mm(L)x 23.5mm(W)x27 mm(H).

To be able to switch high DC voltages in these small dimensions, Fujitsu has designed two strong permanent magnets in the relay. This magnetic provision is installed to extinguish the severe breaking arc. These two "firefighters" ensure the safety of the relay.

The FTR-J2 is a 2 Form A relay that can be used in two different configurations. It can be used in a circuit with a configuration of 2x200VDC and with a configuration of 1x450VDC.

The FTR-J2 can handle an inrush current of 150A (capacitive load). It offers high insulation between contacts and coil with an insulation distance of clearance/creepage > 6mm, a dielectric strength of 4,000VAC and 10,000V surge strength.

The FTR-J2 relay has been designed for applications such as; UPS, wireless base stations, solar converters, solar batteries and other battery powered equipment. But it can also function as an IGBT replacement and used in inverters and converter eliminations.

The relay is certified by UL and VDE.

In short, the FTR-J2 is the powerful, compact and reliable solution for appliances that need to switch high DC voltage.

About Fujitsu Components Europe B.V.
Fujitsu Components Europe B.V. is responsible for managing the sales, marketing and distribution of its connectors, relays, KVM switches, touch panels, thermal printer mechanisms, keyboards, pointing and input devices, in Europe, Middle East and Africa. Primary customers include large original equipment manufacturers and resellers of a broad range of electronic equipment for various industries. The company is headquartered in Hoofddorp, The Netherlands and has representatives all over Europe. For product information, contact Fujitsu via telephone at +31 (0)23 556 0910 or by email info@fceu.fujitsu.com.

For more information, please see: emea.fujitsu.com/components

More from Communication Systems & Equipment