Compact Automated Sample Delivery System increases throughput.
Press Release Summary: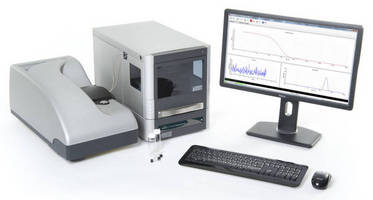 Available for Zetasizer Nano nanoparticle and colloid characterization system, Zetasizer NanoSampler delivers precise and reproducible automated sample loading. Product accommodates up to 96 sample vials and enables unattended operation of Zetasizer Nano to promote analytical productivity. Specifically of use to laboratories where multivariate studies are routine, system works with all sizing systems in Zetasizer Nano instrument range.
---
Original Press Release:

Malvern Instruments Launches the New Zetasizer NanoSampler for High Throughput Sample Delivery



Malvern, UK: The new Zetasizer NanoSampler from Malvern Instruments is a versatile, compact, fully automated sample delivery system for the Zetasizer Nano, the most widely used system for nanoparticle and colloid characterization. Delivering precise and reproducible automated sample loading, and accommodating up to 96 sample vials, the NanoSampler enables unattended operation of the Zetasizer Nano, to maximize analytical productivity. It is especially suitable for laboratories where reproducibility is critical and where multivariate studies are routine.



The new NanoSampler will work with all of the sizing systems in the Zetasizer Nano instrument range. This range includes both exceptionally high performance and entry level systems that measure particle and molecular size using dynamic light scattering, covering a size range from less than one nanometer up to several microns. The simplicity and ease of use of Zetasizer Nano systems have made them the leading solutions in both industry and academia, and the new NanoSampler will enhance their capabilities.



Samples can be selected for analysis via the Zetasizer software through a simple-to-use Standard Operating Procedure (SOP). Each sample is delivered through solvent-resistant tubing and into the quartz analysis cell within the Zetasizer Nano. Automatic size measurements are then made, without the need for user intervention. After analysis, the results from all selected samples are clearly displayed in the Records View in the normal way.



Malvern Instruments will be holding a live webinar on the 15th May 2014 to formally launch the product into the market; therefore if you would like to be one of the first to hear more about this exciting new addition to the Zetasizer range go to www.malvern.com/nanosampler to register for the event.



Malvern, Malvern Instruments and Zetasizer are registered trademarks of Malvern Instruments Ltd



About Malvern Instruments

Malvern provides the materials and biophysical characterization technology and expertise that enables scientists and engineers to understand and control the properties of dispersed systems. These systems range from proteins and polymers in solution, particle and nanoparticle suspensions and emulsions, through to sprays and aerosols, industrial bulk powders and high concentration slurries. Used at all stages of research, development and manufacturing, Malvern's materials characterization instruments provide critical information that helps accelerate research and product development, enhance and maintain product quality and optimize process efficiency.



Our products reflect Malvern's drive to exploit the latest technological innovations and our commitment to maximizing the potential of established techniques. They are used by both industry and academia, in sectors ranging from pharmaceuticals and biopharmaceuticals to bulk chemicals, cement, plastics and polymers, energy and the environment.



Malvern systems are used to measure particle size, particle shape, zeta potential, protein charge, molecular weight, mass, size and conformation, rheological properties and for chemical identification, advancing the understanding of dispersed systems across many different industries and applications.



Headquartered in Malvern, UK, Malvern Instruments has subsidiary organizations in all major European markets, North America, China, Japan and Korea, a joint venture in India, a global distributor network and applications laboratories around the world. www.malvern.com



Facebook: MalvernInstruments

Blog: www.materials-talks.com

Youtube: malverninstruments

Linked-In: malvern-instruments

Twitter: malvern_news

Google +: https://plus.google.com/+malvern



For press information, please contact:

Trish Appleton, Kapler Communications

Phoenix House, Phoenix Park

Eaton Socon, Cambridgeshire, PE19 8EP, UK

Tel: +44 (0)1480 471059 

Fax: +44 (0)1480 471069 

trish.appleton@kapleronline.com



USA contact:

Marisa Fraser, Malvern Instruments Inc.

117 Flanders Road

Westborough, MA 01581-1042  USA

Tel:  +1 508 768 6400

Fax: +1 508 768 6403 

marisa.fraser@malvern.com



Please send sales enquiries to:

Alison Vines, Malvern Instruments Ltd

Enigma Business Park, Grovewood Road

 Malvern, Worcestershire WR14 1XZ  UK          

Tel: +44 (0) 1684 892456

Fax: +44 (0) 1684 892789

salesinfo@malvern.com

www.malvern.com

More from Software