AC Motor Controllers and Drives
Compact AC Drives sustain 150% overload for 5 minutes.
Press Release Summary: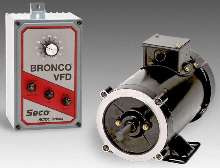 SECO-branded Bronco VFD Series Variable Frequency AC Drives feature isolated front end and voltage doubler circuit that can output 230 Vac to motor from 115 Vac power supply. Available for up to 1.5 hp operation, dual-voltage inverters also accept speed reference signal without separate isolation card. Products come in 3 styles: chassis, NEMA 4 cast aluminum, and NEMA 4x USDA rated white epoxy coated aluminum with stainless steel hardware.
---
Original Press Release:

Rugged, Compact and Economical SECO AC Drives from Danaher Motion


New functionality includes 230VAC output with 115VAC power supply

WOOD DALE, IL - Danaher Motion's SECO-branded Bronco VFD Series Variable Frequency AC Drives are packed with new features for enhanced operation including an isolated front end for highly reliable operation and a voltage doubler circuit that can output 230VAC to a motor from a 115VAC power supply. These dual-voltage inverters can also accept a speed reference signal without a separate isolation card, and are available for up to 1.5 HP operation.

"A jumper allows the user to set the Bronco VFD for automatic or manual restart. When automatic restart is selected, the inverter will restart after a low voltage fault or power loss once input voltage is restored to a minimum level," says Lou Lambruschi, Product Manager. "Adjustable DC injection braking and coast-to-stop functions are also easily selected via a jumper and provide increased control for application-specific needs, while brake-time and current are easily customized with an adjustable trimmer pot."

The compact Bronco VFD drives are available in three styles to meet various application requirements: chassis, NEMA 4 cast aluminum, and NEMA 4x USDA rated white epoxy coated aluminum with stainless steel hardware.

Additional features and benefits include:

o 115V or 230VAC single phase input - One flexible unit works for both common line voltages and with 50 or 60 hertz input

o Slip Compensation - Improves speed regulation without a feedback device

o 200% peak starting torque - Enables the drive to overcome intermittent peak loads

o Torque limiting - Protects equipment that could be damaged by reducing the torque to a safe level

o Adjustable 4-16kHz carrier frequency (factory set at 16kHz) - 16kHz switching frequency results in quiet motor operation

o Minimum speed, maximum speed, torque limit, acceleration, deceleration, slip compensation, boost, zero set, brake current, and brake time - Easy calibration and set up of drive

o Power, Fault, Enable and Torque limit LEDs - Easy to troubleshoot and identify the status of the drive

o 150% overload for 5 minutes - Longer overload time than competition

o AC line fuses included in all styles - No need to add fusing at installation

o Run multiple motors in parallel - Potential cost savings if only one drive is needed for more than one motor

About Danaher Motion

Danaher Motion is a leading global manufacturer of motion control products that improve the efficiency and productivity of complex manufacturing operations. Danaher Motion's product innovations have been revolutionizing the motion control industry for over 60 years through trusted brand names including Dover Kollmorgen, MEI, Pacific Scientific, Portescap, and Thomson. Danaher Motion is a strategic business platform of the Danaher Corporation (NYSE:DHR), a manufacturer of process and environmental controls, tools and industrial components.

For more information contact Danaher Motion, 1500 Mittel Boulevard, Wood Dale, IL 60191-1073; 1-866-993-2624; 1-636-281-1517 (fax); ContactUs@DanaherMotion.com; www.DanaherMotion.com.

More from Test & Measurement