Communication Controller comes in small form factor.
Press Release Summary: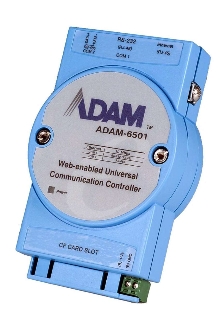 ADAM-6501 Communication Controller has 400 MHz Intel® XScale® processor. Equipped with CompactFlash® slot, controller can be expanded with additional file storage or other CompactFlash form factor devices like modems or WLAN cards. Embedded web server, FTP server, and telnet server allow creation of remotely operated controller. ADAM-6501 has embedded Microsoft® Windows® CE .NET 4.2, 32 MB onboard flash memory, 64 MB SDRAM with option to bundle with web-enabled HMI/SCADA software.
---
Original Press Release:

Advantech Launches Smallest Intel® XScale® Communication Controller


Cincinnati, Ohio (June 9, 2005) - Advantech Corporation, Industrial Automation Group has released the powerful ADAM-6501 communication controller - the smallest application-ready Intel® XScale® communication controller currently available to the industrial market.

With a 400 MHz Intel® XScale® processor packed into the small ADAM® form factor, it provides a computing platform for challenging applications. Equipped with a CompactFlash® slot, the controller can easily be expanded with additional file storage or other CompactFlash form factor devices like modems or WLAN cards. There is also an embedded web server, FTP server, and telnet server that make it possible to create remotely operated controller.

"The ADAM-6501 is the first industrial communication controller to offer this much processing power in such a small package," says David Lee, product manager of the ADAM-6000 product line. "Its networking capability combined with its compact size and this much memory, storage and processing power will enable many new applications."

For the operating system, the ADAM-6501 has embedded Microsoft® Windows® CE .NET 4.2, and for applications there is 32 MB of onboard flash memory and 64 MB SDRAM. The ADAM-6501 has an option to bundle with Advantech Studio, our web-enabled HMI/SCADA software.

Networking is taken care of with one RS-232, one RS-485 and one RJ-45 10/100BaseT Ethernet port. Drivers for Modbus/RTU and Modbus/TCP ensure networking integration goes smoothly.

The ADAM-6501 has a list price of $595. It is available for purchase directly from Advantech or from one of Advantech's North American distributors at eAutomationPro.com.

For more information or to locate an Advantech distributor, visit eAutomationPro.com.

Advantech Corporation, Industrial Automation Group - Founded in 1983, the Industrial Automation Group of Advantech Corporation is the only complete PC-based Industrial Automation Solution Manufacturer offering products such as Industrial PCs, Workstations, Panel PCs, Flat Panel Monitors, Heavy Environmental PCs, Customized PCs, Single Board Computers, Data Acquisition & Control Devices and Web-enabled products for a wide array of industries. Drawing on the talents of more than 1,800 people, Advantech operates an extensive sales and marketing network in 16 countries and 35 major cities to deliver fast time-to-market services to our worldwide customers. Today Advantech offers over 700 products and solutions, adding 30 new products each year. US operations for the Industrial Automation Group are based in Cincinnati, OH (877-294-8989). Address: 1320 Kemper Meadow Drive, Suite 500, Cincinnati, Ohio 45240.

Web: eAutomationPro.com. Email: [email protected]

For this release in HTML or Word format, datasheets, images, etc. visit our media website: www.advantech-eautomation.com/media.

Brandon Rhoten

Advantech Corporation, Industrial Automation Group

(513) 742-8895 x333

website: eAutomationPro.com

media website: http://www.advantech-eautomation.com/media