Applicator / Finishing / Cleaning Brushes
Commercial Steam Cleaner Now with Low-Cost Accessories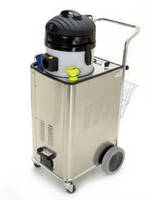 WOBURN, MA, U.S.A. - Daimer Industries, Inc.®, a top supplier of commercial steam cleaner machines and add-ons, has shipped $2.50 accessory brushes for its KleenJet® Ultra 8423-160 CVP industrial-grade machine. The accessory brushes are available in several styles for different applications and surfaces. The accessories are engineered to meet or exceed the performance of brushes offered by other suppliers for up to $20.

"These brushes offer the same performance and longevity as products sold by some competitors for as much as $20," explained Matthew Baratta, add-ons spokesman for Daimer.com's commercial steam cleaner products. "Our 8423-160 CVP was engineered to last a long time - now we're making it even more cost-effective by providing low-cost consumables."

Advanced Commercial Steam Cleaner, Low-Priced Brushes

Daimer® has estimated that consumables can represent nearly 90 percent of the replacement costs for commercial steam cleaner users. Large, institutional customers may use up 100 brushes. For the company's popular 8423-160 CVP, the cost of 100 brushes is $250 if purchased direct from Daimer® Industries. An identical quantity of brushes from competitors could approach $2000, eight times the cost.

The company is selling three different brushes for the 8423-160 CVP. Steel bristle brushes offer the most abrasion for the hardest residues on the hardest surfaces. Brass bristles offer slightly less abrasion for less-hard surfaces. Nylon bristles offer the least abrasion for delicate surfaces.

The 8423-160 CVP Commercial Steam Cleaner

The 8423-160 CVP commercial steam cleaner offers high pressure levels, high temperatures, and industrial-grade vacuum extraction. The machine can produce up to 120 psi and hit temperatures approaching 329ºF. The integrated extraction subsystem includes a water filtration system for capturing odors and a 26-foot hose.

For additional information about Daimer®'s commercial steam cleaner offerings, floor steam cleaner machines and best steam cleaners for institutional customers, visit www.daimer.com/steam-cleaners/ or call Matthew Baratta at (888) 507-2220. The steam cleaner systems are available to customers in most countries in 50 Hz and 60 Hz configurations. Minimum order quantities may apply.

About Daimer Industries, Inc.®: Daimer®, www.daimer.com, is a major supplier and worldwide exporter of the industry's leading line of KleenJet® vapor steam cleaners, floor steam cleaner machines and gum removal systems; XTreme Power® carpet cleaners, hard surface cleaning machines, floor buffers/scrubbers/burnishers; and Super Max(TM) and Vapor-Flo® pressure washers.


More from Electrical Equipment & Systems