Commercial Pressure Washer targets car wash industry.
Press Release Summary: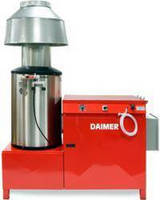 With pressure levels of 1,500 psi and flow rates of 5 gpm, Super Max™ 15700 eliminates dirt, grease, sap, oil, brake dust, and bugs from car exteriors without damaging car paint. Electric-powered unit offers multiple heating methods, such as heating oil, kerosene, and diesel. Schedule 80 heating coils convert cold water to temperatures up to 330°F within 30 sec. In addition to tri-mode temperature settings of cold, hot, and wet steam, Super Max 15700 offers optional 2-gun operation.
---
Original Press Release:

Super Max Commercial Pressure Washer Debuted By Daimer for the Car Wash Industry



Daimer Industries, Inc.®, the global leader and USA brand of technologically sound auto detailing systems, gas pressure washer and electric pressure washer machines, and other highly effective cleaning systems, has launched the Super Max™ 15700 to the car washing industry. The model is an excellent commercial pressure washer with pressure levels of 1500 psi and flow rates of 5 gpm.



The machine features the right pressure levels to clean car exteriors efficiently, as high pressure levels can actually damage car paint. The electricity-powered pressure washer offers multiple heating methods, such as heating oil, kerosene, and diesel, for the ultimate in versatility and convenience.



"Eliminating dirt, grease, tree sap, oil, brake dust, and bugs from car exteriors is only possible if effective machines with the right features are utilized," states Matthew Baratta, Daimer Industries, Inc.® spokesman. "Daimer® is enthralled to launch a machine that generates temperatures as high as 330ºF to dissolve the most stubborn deposits of dirt from the exterior surfaces of cars. The Super Max™ 15700 commercial pressure washer comes with tri-mode temperature settings: cold, hot and wet steam. In addition, the optional two-gun operation allows multiple operators to use the machine at the same time, increasing productivity and making the cleaning process fast. The system is ideal for those in the car wash business."



Daimer® is the most renowned supplier of skillfully designed pressure washer machines that feature superior technologies and durable parts. The company exports its cleaning machines to customers of all sizes, and even the world's largest companies, in more than 240 countries. The expert engineering and designs included within Daimer®'s machines make them famous worldwide. The company is the preferred choice within most markets and industries within the economy.



The auto detailing industry has grown largely in recent years. Car cleaning experts need to clean the car exteriors, windows, and wheels thoroughly, so they require machines that make the cleaning fast and easy. Traditional cleaning techniques of scrubbing and wiping take hours, and still do not offer the most effective cleaning results. The Super Max™ 15700 hot water pressure washer from Daimer® cleans with the emission of pressurized, Super-Hot™ steam, and eliminates tough dirt buildups quickly without negatively affecting the paint. The user has control over the temperature. We include the heaviest-duty, schedule 80 heating coils, which converts cold water to the highest temperatures within approximately 30 seconds.



In addition, the company's Thermal Optimized Projection Steam™ (TOPS™) technology allows the system to create more forceful, higher temperature steam flow versus other steam cleaners on the market. The Super-Hot™ and TOPS™ technologies offer a more eco-friendly and safe way of cleaning. For very heavy-duty cleaning tasks, users can add green chemicals to the top-class car wash equipment and upstream it into the system for the ejection of chemical infused flow.



Advanced technologies increase the productivity of a cleaning professional by saving time and offering high cleaning power. The unique industrial pressure washer comes with Daimer®'s Long Hose Technology™ (LHT™) that allows it to offer enhanced cleaning power even while using hoses as long as 300 feet. Long hoses end the need for users to carry the machine everywhere while cleaning.

More from Controls & Controllers