AC Motor Controllers and Drives
Commander Drives: Now with Free Five-Year Warranty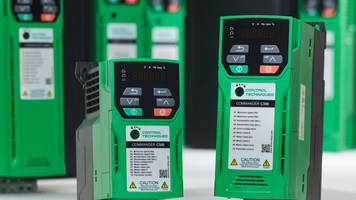 Control Techniques has launched a free, five-year warranty for its Commander range of general-purpose drives.
Anyone who purchases a drive from the Commander range will now be able to register to extend the products' warranty from two years to five, at no extra cost.
The new offer relates to the Commander C200 and C300 – general purpose drives designed for ease of setup and installation. The firm states the move to extend the warranty from two to five years is testimony to the products' exceptional track record for reliability and durability. Users can now buy with confidence, safe in the knowledge that their purchase comes with the security a five-year warranty offers.
Due to an on-board PLC, both devices have embedded intelligence – removing the need for an external controller – and a 0.25kW to 132kW power range makes the products suitable for lower and high-power applications. Noted for its robust design and resilience to harsh environments, the Commander range has the smallest footprint in its class, making it is ideal for machine and original equipment manufacturers (OEMs). For more complex applications, both models are compatible with Control Techniques' plug-in option modules.
The Commander family of drives was reintroduced to the company's portfolio at the end of 2018.
Anthony Pickering, president of Control Techniques said: "To increase the warranty period for our Commander range signals our confidence in the product and gives drive users added security. We are particularly proud to be in a position where we can offer this.
Control Techniques, a Nidec company, is a world leader in the design and production of electronic variable speed drives for the control of electric motors. Founded in 1973, the company has headquarters in Newtown, Wales. It has dedicated production and R&D sites globally, along with Automation Centres in 45 locations around the world.
For more information, visit www.ControlTechniques.com
Control Techniques Ltd
Ty Rheoli, 79 Mochdre Industrial Estate
Newtown SY16 4LE
Chris Corfield
Phone: +44 1686 612996
Fax: +44 7818 522442