Come Alive Organics Introduces New Stick Packs for CBD Extracts
Press Release Summary: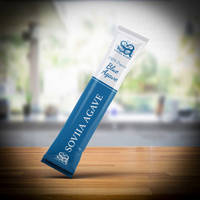 New stick packs from Come Alive Organics are available for private labeling CBD oils and extracts in syrup or powder form.  They come in a variety of agave flavors such as coconut, red velvet, chocolate, and lemon ginger. Come Alive Organics can also fill customer-supplied CBD oils in stick packs ranging from 5 ml to 70 ml.
---
Original Press Release:
Come Alive Organics Announces New Stick Packs and Capabilities for CBD Applications
Come Alive Organics, makers of the Soviia Agave brand, have announced new stick pack product and custom capability offerings for this new product line to support the emerging CBD oils and extracts markets.
In addition to their line of stick packs that can be used for private labeling in either syrup or powder forms, Come Alive Organics is now able to fill customer- supplied CBD oils in stick pack sizes from 5 ml to 70 ml.  While CBD tinctures are common, Come Alive Organics' premium agave stick packs not only address this concern with better aesthetic presentation of the finished product, but the agave syrup and powder also provides a very effective carrier for CBD. 
Proprietary flavors include coconut agave CBD stick packs, red velvet agave CBD stick packs, chocolate agave CBD stick packs, and lemon ginger agave CBD stick packs to name just a few. 
For more information and to address specific needs, please contact Come Alive Organics at 888-279-9080.
Related