Combination Scissors feature 2-in-1 cutting blade.
Press Release Summary: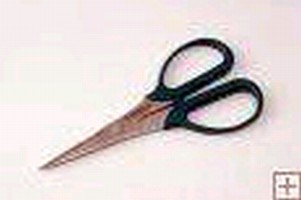 Measuring 6.5 in. long, Model 11080 features soft grip handle and stainless steel blades with HRC 54 hardness. Notched blade prevents material from slipping, and scissors can cut through aluminum and copper sheets up to 0.5 mm thick, plastic plate and PET up to 1.0 mm thick, and braided wire up to 1.5 mm dia. U-type blade holds items such as copper wire, cabtire cord, and various types of cotton braided and insulated cords, up to 1.5 mm dia, firmly in place to produce clean cut.
---
Original Press Release:

Aven Introduces 2-in-1 Combination Scissors With Unique Cutting Blade



2-in-1 Combination Scissors (Model 11080) measure 6.5 in. long and have soft grip handles. Providing fine, clean, flush cuts, blades are constructed of stainless steel with blade hardness of HRC 54. Appropriate for a wide variety of industries, the scissors unique 2-in-1 cutting blade can trim and cut materials that would not be possible with a normal scissor.

The notched blade prevents the material to be trimmed from slipping -- including thick fabrics, nylon fiber, aluminum sheets, Kevlar, even copper braided wire. These versatile scissors can cut through aluminum and copper sheets up to 0.5 mm thick, plastic plate and PET up to 1.0 mm thick, and braided wire up to 1.5 mm diameter.

The U-type blade allows you to hold items such as copper wire, cabtire cord, and various types of cotton braided and insulated cords, up to 1.5 mm diameter, firmly in place to produce a clean flush cut.

For additional details, see www.aveninc.com/index.html?main_page=product_info&products_id=1072

About Aven
Aven has been serving the industrial marketplace since 1983. Our mission has always been simple:
--Provide a quality product at a reasonable price
--Extend cordial and knowledgeable customer service "at all times"
--Maintain a healthy inventory for immediate delivery
--Back our products with an excellent straightforward warranty

Aven has maintained these values for over 23 years and the results have been rewarding for both our trusted and loyal customers, and the Aven Team.

Contact
Mike Shahpurwala
Marketing Director
Aven Inc
4595 Platt Road
Ann Arbor, MI 48108
Tel: 734-973-0099
Fax: 734-973-0097
Email: mike@aventools.com
Website: www.aveninc.com

More from Material Handling & Storage