COM Express Module supports Intel Core i7/i5 processors.
Press Release Summary: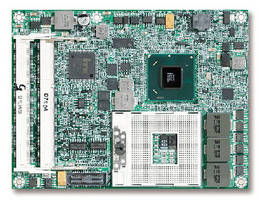 Measuring 125 x 95 mm, PCOM-B217VG COM Express(TM) Type 2 Module is based on second generation Intel Core i7/i5 quad and dual core mobile processors and Intel QM67 Express chipset with integrated graphics engine. Board includes 2 SODIMM sockets supporting DDR3 SDRAM up to 16 GB 1067/1333 MHz, 4 SATA ports, 1 Intel 82579LM GigE PHY with AMT 7.0, and 8 USB ports. PCIe x1 Gen 2.0 technology doubles I/O data rate between COM Express module and PCIe Gen 2 add-on cards via COM Express carrier board.
---
Original Press Release:

Portwell Expands Intel Core i7/i5 COM Express Family Supporting 2nd Generation Intel Core i7/i5 processor



FREMONT, CALIF. - American Portwell Technology, Inc. (http://www.portwell.com) has expanded its COM Express(TM) Type 2 product portfolio to include Intel's second-generation quad-core and dual-core Core(TM) i7/i5 processors with integrated graphics engine and Intel Turbo Boost Technology 2.0. This technology dynamically increases the operating frequency of processor cores beyond baseline levels - even beyond 3GHz - according to workload and real-time power and temperature measurements. This frequency increase is complementary to hyper-threading, which raises the performance of multi-threaded and single threaded applications. The integrated graphics engine supports high-end media/graphics capabilities and delivers greater graphics performance while reducing overall platform power requirements. Portwell's PCOM-B217VG module is well suited for gaming machines, high-end communications applications, test equipment, streaming video terminals, and medical imaging devices.

According to Jimmy Chang, American Portwell's product marketing manager, the new PCOM-B217VG Type 2 COM Express module is the first Intel mobile quad-core module to offer long life product support for at least 7 years. It is also the first generation to support the PCIe x1 Gen 2.0 technology which doubles the I/O data rate between the COM Express module and the PCIe Gen 2 add-on cards via the COM Express carrier board.

Based on the second generation Intel Core i7/i5 quad and dual core mobile processor and mobile Intel QM67 Express chipset with integrated graphics engine, PCOM-B217VG features Intel Core i7-2710QE 2.1 GHz (with Turbo Boost to 3GHz), Intel Core i5-2510E 2.5 GHz (with Turbo Boost to 3.1GHz), Type 2 COM Express Basic small form factor of 125mm x 95mm, two SODIMM sockets supporting DDR3 SDRAM up to total 16GB 1067/1333 MHz, IDE and four SATA ports (two 6Gbps and two 3Gbps ports), one Intel 82579LM Gigabit Ethernet PHY with AMT 7.0, and eight USB ports. AMT (Active Management Technology) is a hardware-level technology within the Intel vPro technology umbrella of features that permit secure remote access and updating even without an operating system running.

Expansion options on the developer PCOM-C210 COM Express Type 2 carrier board includes: More PCIe Gen 2 add-on cards and devices are supported with one PCI-E x16 Gen. 2.0 (configurable as two x8 or two x4 and one x8), and six PCI-E x1 Gen. 2.0 (configurable to one x4); LPC interface; SMBus/12C interface; and high definition audio interface.

Turbo Boost to Maximize Performance

"Timely support of the latest Intel silicon is critical in the competitive COM Express module market," notes Chang. "By powering this COM module with second generation Intel® Core(TM) i7/i5 processors and QM67 platform with integrated graphics, we are not only able to support DX10+ but also enhance low power HD video playback. Turbo Boost technology enables us to maximize important CPU and graphics performance and we have extended that commitment to speed by designing the architecture of the physical module and carrier boards to speed up time-to-market for custom-made applications. In addition," Chang adds, "we have filled the PCOM-B217VG with a host of useful features, such as the Intel Flexible Display Interface (FDI) to utilize differential signaling to transport display data from a processor pixel source to a sink PCH at a rate of 2.7GT/s. We have mapped the Display Port (DP) to the PEG port to reduce baseboard design costs and enhanced Intel vPro efficiency by using Intel 82579LM GbE PHY and AMT 7.0 technology."

Another First for Portwell

Frank Shen, American Portwell Technology's senior product marketing director points out that customers not only benefit from American Portwell's ability to consistently provide the most up-to-date technology and features, but they also gain peace of mind from the long life cycle support inherent with every Portwell product. "This is particularly true of the new PCOM-B217VG," states Shen, "because it is the first of its kind to take advantage of the Intel mobile quad core long life cycle support of at least 7 years."

Portwell's extensive COM Express product portfolio now includes every high-performance Core(TM) and Atom(TM) processor platform available for embedded market longevity support, such as Core i7 / QM57 Type 6 with ECC RAM, Core i7 / QM57 Type 2, Core 2 Duo / GM45, Core 2 Duo / GME965, Atom N270, Atom N450 and dual-core Atom D510, and extended lifecycle support for 945GM and 915GM chipsets.

Portwell Value Adds

Portwell provides system integration as well as a broad portfolio of value-added services for its customers, both in the US and in Taiwan. Services include in-house design of custom carrier boards, BIOS customization, customized thermal solutions such as heat spreaders and fansinks, private labeling and customized chassis design and manufacturing for the entire system. In addition, Portwell performs temperature, shock and vibration qualification testing at its Taiwan headquarters. Engineering, manufacturing and configuration management in the same facility leads to optimum quality control. Portwell offers an LCD integration kit and clean room touch-screen installation for production. Moreover, American Portwell is the only industrial PC manufacturer with ISO 13485 "medical ISO" certification in the US in addition to Taiwan.

Product details: www.portwell.com/products/detail.asp?CUSTCHAR1=PCOM-B217VG

About American Portwell Technology

American Portwell Technology, Inc., is a world-leading innovator in the embedded computing market and an Associate member of the Intel Embedded Alliance. American Portwell Technology designs, manufactures and markets a complete range of PICMG computer boards, Embedded computer boards and systems, and rackmount systems for both OEMs and ODMs. American Portwell is both an ISO 9001:2008 and ISO 13485:2003 certified company. The company is located in Fremont, California. For more information about American Portwell's extensive turnkey and private-label branding solutions, call 1-877-APT-8899, email info@portwell.com or visit us at www.portwell.com.

All products and company names referred to herein may be trademarks or registered trademarks of their respective companies or mark holders.


More from Electronic Components & Devices