COM Express Module supports data-centric applications.
Press Release Summary: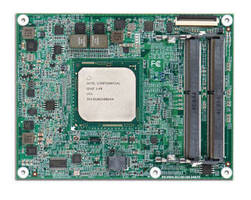 Measuring 125 x 95 mm, Model PCOM-B634VG utilizes Intel® Xeon® Processor D-1500 Family, which integrates up to 8 CPU cores, each with three 1.5 MB cache, of up to 12 MB in total. Module provides one PCIe x16 and eight PCIe x1 channels, one standard GbE interface plus two 1/2.5/10 GbE Intel® Ethernet interfaces in C/D pin row. Three SODIMM memory slots support dual-channel DDR3L-1600 or DDR4-2400 configurations with max capacity of 128 GB and ECC support.
---
Original Press Release:

Portwell Releases a Basic COM Express Module based on Intel Xeon Processor D Product Family



The New PCOM-B634VG Offers Higher Performance and More Accurate Responses for Network Systems 



FREMONT, CA. -- American Portwell Technology, Inc., (http://www.portwell.com), a wholly owned subsidiary of Portwell, Inc., a world-leading innovator in the Industrial PC (IPC) market and a Premier member of the Intel® Internet of Things (IoT) Solutions Alliance, today announces Portwell's release of the PCOM-B634VG, a Type 6 COM Express Basic (125mm x 95mm) module based on Intel® Xeon® Processor D Product Family (codename Broadwell DE). The COM Express module has optimized value models and service levels by running network applications securely and reliably on virtualization-optimized platforms.



Along with 32-lane PCI Express, the PCOM-634VG utilizes Intel® Xeon® Processor D-1500 Family built on 14nm process technology and designed into a dense, lower-power system-on-a-chip (SoC) with integrated PCH technology and Intel® Ethernet. The PCOM-B634VG also offers pin-to-pin compatibility and scalability from previous designs to support legacy and new network applications with increased performance at low power. These features translate into reduced manageability cost and improved security, making the PCOM-B634VG an ideal solution for Advanced Mezzanine Cards, CompactPCI and high-density systems in network and data-centric applications.



Portwell's COM Express Solutions Deployed in High-Density Micro Servers to Scale out Cloud Workloads

Intel® Xeon® Processor D-1500 Family integrates up to eight CPU cores, each with three 1.5MB cache, of up to 12MB in total. Portwell's PCOM-B634VG COM Express module provides one PCIe x16 and eight PCIe x1 channels, one standard GbE interface plus two 1/2.5/10GbE Intel® Ethernet interfaces in the C/D pin row. The three SODIMM memory slots support dual-channel DDR3L-1600 or DDR4-2400(select SKUs) configurations with a maximum capacity of 128GB and ECC support. Furthermore, there are four SATA III (6Gbps) interfaces, four USB 3.0, and seven USB 2.0 ports implemented on the module. The processor supports functions like Hyper Threading; Turbo Boost; Intel® Virtualization Technology, set of hardware enhancements improving flexibility and robustness of traditional software; Intel® Trusted Execution Technology (Intel® TXT) delivering reliable execution; and Intel® AES-NI/Intel® Advanced Vector Extensions 2 (Intel® AVX2) instruction set.



Designed on a basic 125mm x 95mm platform, the PCOM-B634VG is backward compatible and seamlessly scales up and ensures interoperability between industrial edge devices and enterprise systems. Meanwhile, Portwell customers can manage certification more easily thanks to generational compatibility.



Design and Customization Services for Broad Applications

In the micro server, storage, networking, and Internet of Things (IoT), the PCOM-B634VG is suitable for high-performance network, high data transfer loads and dense applications.  With exceptional value, Portwell's PCOM-B634VG COM Express module supplies data integrity, balance I/O, memory bandwidth, and Intel® QuickAssist Technology providing security and compression acceleration.



Portwell's versatile COM Express modules respond to the ever-evolving network and IoT use cases by enabling designers to partition commodity host-processors from proprietary baseboards, thereby minimizing current and future design risks during the initial phase of development. This design of separating the CPU-upgradable module from system specific I/O carrier boards further safeguards development investments and lowers total cost of ownership. In addition, Portwell can also provide services to clients on carrier board design and development, schematics and BIOS customization.  At Portwell, we strive to create superior products for our customers.



Product details: http://www.portwell.com/products/detail.php?CUSTCHAR1=PCOM-B634VG



Product availability: In addition to American Portwell Technology, Inc., the Portwell PCOM-B634VG Type 6 COM Express module is also available through Arrow Electronics, Inc. and Avnet, Inc.



About American Portwell Technology

American Portwell Technology, Inc. is a world-leading innovator in the embedded computing market and a Premier member of the Intel® IoT Solutions Alliance. American Portwell Technology designs, manufactures and markets a complete range of PICMG computer boards, embedded computer boards and systems, rackmount systems and network communication appliances for both OEMs and ODMs. American Portwell is an ISO 9001:2008, ISO 13485:2003, ISO 14001:2004 and TL 9000 certified company. The company is located in Fremont, California. For more information about American Portwell's extensive turnkey solutions and private-label branding service, call 1-877-APT-8899, email info@portwell.com or visit us at http://www.portwell.com.



Intel and Intel Xeon are registered trademarks of Intel Corporation in the United States and other countries. All products and company names referred to herein may be trademarks or registered trademarks of their respective companies or mark holders.



Product Contact:

Richard Chang

Product Manager

American Portwell Technology, Inc.

510-403-3332

richardc@portwell.com



Media Contact:

Susan Wei

Marketing Executive

American Portwell Technology, Inc.

510-403-3354

susanw@portwell.com



More from Machinery & Machining Tools