COM Express Mini Module features quad-core processor.
Press Release Summary: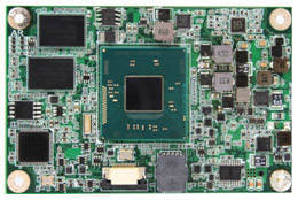 Measuring 55 x 84 mm, EmNANO-i2300 Type 10 Module comes in 4 Intel Atom-based versions, ranging from 1.33 GHz dual core E3825 with 6 W power consumption, up to 1.91 GHz quad-core E3845 with 10 W max power consumption. Module can support TMDS (HDMI/DVI) or DisplayPort at DDI interface as well as 24-bit LVDS channel. Providing up to 4 GB of fast DDR3L onboard memory, module includes 8 USB 2.0 ports, 1 USB 3.0 SuperSpeed port, three 5 Gbps PCI Express 2.0 lanes, and two 3 Gbps SATA interfaces.
---
Original Press Release:

New Arbor COM Express Mini Module with Single-chip, Quad-core Intel® Atom(TM) Processor E3800 Family



ARBOR Technology, a leading IPC provider of embedded computing solutions, announces its latest COM Express Mini Type 10 module with a size of 55 x 84 mm and based on the Intel® Atom™ E3800 series of processors. Features of the latest Intel Atom generation include its single-chip design, an L2 cache able to be shared by multiple cores, and a much faster Intel HD graphics engine than the previous generation. The highlights of the module include its ultra-dense design, onboard soldered memory.



EmNANO-i2300

The EmNANO-i2300 comes in four different Intel Atom processor-based versions (formerly codenamed "Bay Trail") for high scalability. It ranges from the entry-level dual-core Intel Atom E3825 with 1.33 GHz and a low power consumption of 6 watts, up to the quad-core Intel Atom E3845 with 1.91 GHz and 10 watts maximum power consumption.



The Type 10 module pin-out is a refresh of Type 1 and uses the single 220 pin A-B connector. Type 10 COMs take advantage of modern display interfaces. The EmNANO-i2300 can support either TMDS (HDMI/DVI) or DisplayPort at DDI interface. In addition, it supports 24-bit LVDS channel.



The EmNANO-i2300 COM Express Mini module provides up to 4GByte of fast DDR3L onboard memory. The improved graphics supports DirectX 11, OpenGL 3.2, OpenCL 1.2 and high-performance, flexible hardware to decode multiple high-resolution full HD videos in parallel. Up to 2,560 x 1,600 pixels with DisplayPort and 1,920 x 1,200 pixels with HDMI are natively supported in the processor. It is possible to connect up to two independent display interfaces.



Thanks to native USB 3.0 support, the modules achieve fast data transmission with low power consumption. A total of eight USB 2.0 ports are provided, and one USB 3.0 SuperSpeed port is supported. Three 5Gb/s PCI Express 2.0 lanes and two SATA interfaces operating up to 3Gb/s enable fast and flexible system extensions. The Intel Gigabit Ethernet Controller i210 helps with software compatibility. ACPI 5.0, I2C bus, SDIO, LPC bus for easy integration of legacy I/O interfaces and Intel High Definition Audio complete the feature set.



The following CPU variants are supported by the module:







COM/Processor



Cores



Cache [M



Clock [GHz



SDP/ TDP [W



Brand



Remark





EmNANO-i2300/E3845



4



2



1.91



-/10
 



Intel® Atom®



Build to Order





EmNANO-i2300/E3827



2



1



1.75



-/8
 



Intel® Atom®



 





EmNANO-i2300/E3826



2



1



1.46



-/7



Intel® Atom®



Build to Order





EmNANO-i2300/E3825



2



1



1.33



-/6



Intel® Atom®



 




More from Electronic Components & Devices