COM Express Computer-on-Modules support 3 digital displays.
Press Release Summary: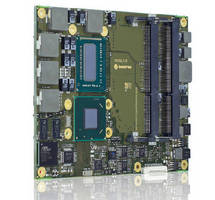 Offered in Type 2 and Type 6 pin-outs, COM Express basic COMe-bIP# Modules are based on Intel QM77 express chipset and support seven 3rd generation Intel Core processors with bandwidth up to 2.3 GHz. Units provide up to 16 GB DDR3 RAM system memory. Compliant with COM Express specification, modules offer 7 PCI-Express Gen 3.0 lanes in pin-out type 6 configuration and also implement parallel PCI bus in pin-out type 2 version. Boards host up to 4 USB 3.0 interfaces, 1 GigE port, and 4 SATA ports.
---
Original Press Release:

Kontron Launches COM Express Computer-on-Modules with 3rd Generation Intel Core Processors in Numerous Variants



Highest scalability for state-of-the-art high-end embedded applications with up to three independent digital displays

Eching, Germany- Today, Kontron has announced to support the new 3rd generation Intel Core processors on 14 COM Express basic Computer-on-Module variants. The new Kontron COM Express basic COMe-bIP# modules - available in both the Type 2 and Type 6 pin-outs each with numerous different processors - offer long-term availability, an unprecedented level of graphics and processing performance, support of three independent displays, USB 3.0 and fast PCI-Express Gen 3.0. Design engineers of high-end intelligent embedded computer systems, such as those for medical and digital signage solutions, who have to efficiently balance out performance, watts and costs, benefit from Kontron's highly scalable range of 3rd generation modules which is set to be further extended in the near future.

Applications with tight thermal restrictions in medical, digital signage, infotainment, point of sale and unmanned aerospace and defense applications also benefit from the up to 40% increased performance per watt ratio of this new benchmark processor series. This increased efficiency is just one result of the innovative 22nm 3-D Tri-Gate manufacturing process. Additionally, the 3rd generation Intel Core processor-based modules possess up to 20% enhanced computing capability and integrated HD graphics with 30% more graphic execution units. Furthermore, the improved Intel Advanced Vector Extensions (Intel AVX) and SSE floating point instruction sets for signal processing as well as OpenCL 1.1 support provide developers an ideal platform to deliver increased computing capabilities for high performance embedded computing applications in markets such as military, avionics and medical. Vision systems benefit from the supported USB 3.0 interface: the new cost efficient bandwidth king for plug & play devices that delivers up to ten times more performance over previous USB 2.0 interfaces. With integrated support for the latest PCI Express technology, solutions that feature the Kontron COMe-bIP# will have the ability to enable fast wireless connectivity through cutting-edge 3G/4G add-on modems and other communications devices. These features serve the market for connected intelligent platforms that deliver optimized up-time via remote manageability and native system security.

The feature set in detail

Kontron's latest modules are available in COM Express pin-out type 6 as well as pin-out type 2. Based on the Intel QM77 express chipset, they support seven new 3rd generation Intel Core processors with a performance bandwidth ranging up to the 2.3 GHz quad-core Intel Core i7 processor 3615QE. The modules support up to 16 GByte of DDR3 RAM system memory. Compliant with the latest COM Express specification, they offer up to seven PCI-Express Gen 3.0 lanes in the pin-out type 6 configurations and also implement the parallel PCI bus in pin-out type 2 variants. With the fully supported PCI-Express and PCI lanes, a wide range of extended system capability, including integration of connectivity devices are possible.. They host up to four USB 3.0 interfaces, one Gigabit Ethernet port as well as four SATA ports (2x SATA 3 and 2x SATA 2) to connect storage media. Compared to its predecessors, the integrated Intel GMA HD 4000 iGFX graphics processor provides an extensive performance boost to applications and supports three independent displays. With the support of 3D Blu-ray, AVC/H.264, VC1 and WMV9 as well as OpenGL 3.1 and DirectX 11, the integrated graphics engine delivers state-of-the-art embedded graphics performance. A wide variety of standard interfaces - ranging from legacy VGA and SDVO up to latest specifications such as HDMI, DVI, DisplayPort and eDP - are available through which the three independent displays can be connected. The wide range of power supplies (8.5 to 20 VDC) supported by the modules are in full compliance with the recommendation of the Open Pluggable Standard (OPS) that serves the modern generation of digital signage solutions.

The Kontron COM Express basic Computer-on-Modules COMe-bIP# supports different Linux variants and VxWorks as well as the entire Windows OS range. Support for Windows 8 is planned.

For more information on the Kontron COM Express basic Computer-on-Modules COMe-bIP#, please visit: www.kontron.com/products/computeronmodules/com+express/com+express+basic/comebip.html

Want to know the difference between the COM Express type 2 and type 6 pin-out? Then please visit:
http://www.kontron.com/mysafechoice

For more information on COM Express, please visit:
http://www.kontron.com/COMExpress

About Kontron

Kontron is a global leader in embedded computing technology. With more than 40% of its employees in Research and Development, Kontron creates many of the standards that drive the world's embedded computing platforms. Kontron's product longevity, local engineering and support, and value-added services, helps create a sustainable and viable embedded solution for OEMs and system integrators. Kontron works closely with its customers on their embedded application-ready platforms and custom solutions, enabling them to focus on their core competencies. The result is an accelerated time-to-market, reduced total-cost-of-ownership and an improved overall application with leading-edge, highly-reliable embedded technology.

Kontron is listed on the German TecDAX stock exchange under the symbol "KBC". For more information, please visit: www.kontron.com/

EMEA

Norbert Hauser

Kontron

Tel: +49 (8341) 803-0

norbert.hauser@kontron.com

Americas

Richard Pugnier

Kontron

Tel:+1 (858) 623-3006

richard.pugnier@us.kontron.com

All rights reserved.

Kontron is a trademark or registered trademark of Kontron AG.

Intel and Intel Core are trademarks of Intel Corporation in the US and other countries.
PICMG and COM Express are trademarks of the PCI Industrial Computers Manufacturers Group.

All other brand or product names are trademarks or registered trademarks or copyrights by their respective owners and are recognized.

All data is for information purposes only and not guaranteed for legal purposes. Subject to change without notice. Information in this press release has been carefully checked and is believed to be accurate; however, no responsibility is assumed for inaccuracies.

More from Non-Industrial Products