COM Express Compact Module boosts system performance.
Press Release Summary: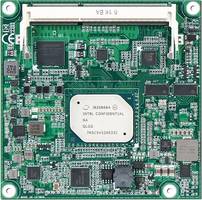 Based on 14 nm Intel® Atom™ E3900 processor, Model PCOM-B641VG supports up to 32 GB DDR3L 1600/1866 MT/s SDRAM on two 204-pin SODIMM sockets. Expansion interface supports 4 PCI Express x1 Gen2 (5.0 GT/s) for optimized video performance and offers flexibility to be configured to two x2 lanes or one x4 lane. Measuring 95 x 95 mm, Type 6 COM Express module outputs 6~12 W for fanless applications, supports -40 to 85°C industrial temperature range, and functions at less than 50 DPM.
---
Original Press Release:
Portwell Releases COM Express Compact Module that Boosts Existing System Performance with Intel Atom Processor E3900 Series
FREMONT, CA. – American Portwell Technology, Inc., (http://www.portwell.com), a wholly owned subsidiary of Portwell, Inc., a world-leading innovator in the Industrial PC (IPC) market and an Associate member of the Intel® Internet of Things (IoT) Solutions Alliance, today announces Portwell's release of the PCOM-B641VG, a Type 6 COM Express Compact (95mm x 95mm) module based on the 14nm Intel® Atom™ processor E3900 product family (6W~12W). The PCOM-B641VG COM Express module offers many valuable features, including a wide range of optional I/O flexibility like Gen2 PCI Express with mature eco-system, enabler for greater media competence like accelerated DRM (Digital Rights Management) for encoding and decoding. The module is also rated to function at less than 50 DPM (defects per million). Portwell's PCOM-B641VG is designed to help customers who are currently using COM Express module products upgrade their systems without having to change existing carrier boards and operating systems. This helps boost system performance with prolonged service life for another 7 years, maximizing our customers' return on investment.

The compact PCOM-B641VG COM Express module supports up to 32GB DDR3L 1600/1866 MT/s SDRAM on two 204-pin SODIMM sockets, making it faster than its predecessor. Its expansion interface supports four (max.) PCI Express x1 Gen2 (5.0GT/s) for enhanced video performance and offers the flexibility to be configured to two x2 lanes or one x4 lane. In addition, it supports one high-resolution display, DP (DisplayPort) or HDMI selectable to double 3D performance compared to its previous generation.

Efficient and Effective Energy Management Enabled by COM Technology
When designing the PCOM-B641VG, we applied the successful modular computing concept of our COM Express form factor and came up with an even more compact, efficient and economical combination. The ultra-low power Intel® Atom™ processor E3900 family is housed on the PCOM-B641VG module board. And in this way, we are able to maximize Computer-On-Module (COM) technology to produce a unit that not only outputs under 6W~12W for fan-less applications, but also supports a wide -40°C to 85°C industrial temperature range. With two SODIMM sockets support, the PCOM-B641VG provides a more powerful solution for our customers aiming at IoT and Industry 4.0. On the other hand, it conserves scarce energy resources, minimizes carbon impact and keeps its energy budgets under control. We believe our customers should have the choice of using products that help them achieve smarter energy management. By making energy management more individualized, we believe it will lead to positive changes in user behavior and save staggering amount of energy and associated costs.

Design and Customization Services for Broad Applications
The PCOM-B641VG COM Express module has been enhanced by Portwell in response to market demand for an even lower power platform to take advantage of the Intel® Atom™ processor's compact design. In fact, since its initial inception, Portwell's expanding Intel Atom processor-based COM Express product portfolio has now grown to include industrial temperature range support. Portwell's versatile COM Express modules adapt to these changes by enabling designers to partition commodity host-processors from proprietary baseboards, thereby minimizing current and future design risks during the initial phase of development. This design of separating the CPU-upgradable module from system specific I/O carrier boards further safeguards development investments and lowers total cost of ownership. In addition, Portwell can also provide services to clients on the carrier board design and development, review schematics and BIOS customization. At Portwell, we strive to create superior products for our customers.

Product details: http://www.portwell.com/products/detail.php?CUSTCHAR1=PCOM-B641VG

Product availability: In addition to American Portwell Technology, Inc., the Portwell PCOM-B641VG Type 6 COM Express Compact module is also available through Arrow Electronics, Inc. and Avnet, Inc.

About American Portwell Technology
American Portwell Technology, Inc., is a world-leading innovator in the embedded computing market and an Associate member of the Intel® Internet of Things Solutions Alliance. American Portwell Technology designs, manufactures and markets a complete range of PICMG computer boards, embedded computer boards and systems, rackmount systems and network communication appliances for both OEMs and ODMs. American Portwell is an ISO 9001, ISO 13485, ISO 14001 and TL 9000 certified company. The company is located in Fremont, California. For more information about American Portwell's extensive turnkey solutions and private-label branding service, call 1-877-APT-8899, email info@portwell.com or visit us at www.portwell.com.

Intel and Atom are trademarks of Intel Corporation in the United States and other countries. All other products and company names referred to herein may be trademarks or registered trademarks of their respective companies or mark holders.

Media Contact:
Susan Wei
Marketing Executive
American Portwell Technology, Inc.
510-403-3354
susanw@portwell.com

Product Contact:
Richard Chang
Product Manager
American Portwell Technology, Inc.
510-403-3332 
richardc@portwell.com
More from Services