Colton Industries can Customize Your Strainer to Meet Your Exact Filtration Requirement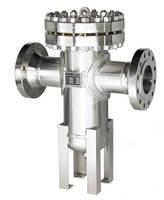 Colton Industries Inc. can build and provide you with custom screen elements for COLTON Brand Strainers as well as all other brands of strainers.  The idea of the strainer screen is obvious; to filter out debris from your pipeline, protecting expensive equipment further downstream, IE Pumps, Generators, Valves, refining equipment etc.  Providing COLTON industries with information such as media, density, viscosity, required filtration level and the maximum operating pressure and temperature will help our engineering department properly determine the screen size required.  There are many different screen options.  1. Perforated plate only, or include lining the screen element with a finer mesh, can be layered 2. Pleated screens (offers a more effective screen area, less cleaning maintenance) 3. Wedge wire (very strong and can have a pressure drop yield up to 100 psid, great effective open area). 4.  Wire diameter screen elements (gives a greater open area ratio for less pressure drop across the screen).  5.  Many different materials and configurations are available.  The important note with screen elements is that pressure drop across the screen relates directly to the effective open area the screen has, not the hole size.  For example, a 1/8" perforated screen with a 45% open area will have less pressure drop across the screen then a 1/8" perf screen with 40% open area.



Note:  Screen elements/Strainers must not be confused with Bag Filters or filter cartridges.



For more information regarding COLTON Strainers and Screen Elements contact kislip@coltonind.com.   







More from Electronic Components & Devices