ColorGATE Presents Rapid Spectro Cube at Labelexpo Europe 2015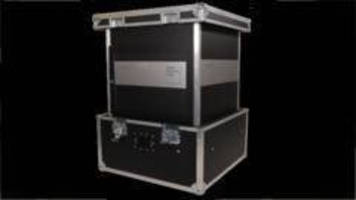 At this year's Labelexpo Europe (September 29th – October 2nd 2015), ColorGATE presents the Rapid Spectro Cube (RSC) an extremely fast color measurement and profiling system for almost every industrial digital printing application at the ALS Engineering GmbH booth (hall 9, stand B51, Brussels Expo, Brussels). Besides the RSC, ColorGATE shows the software solutions Productionserver and VDP Creator for digital label printing.



Rapid Spectro Cube

The Rapid Spectro Cube (RSC) is an all-in-one Color Management solution for the creation of ICC profiles especially in industrial digital printing applications. It contains an ultrafast color measurement system and software for ICC profiling. RSC can take substrates right up to a size of 600x600 mm with a maximum substrate thickness of 80 mm while processing as far as 10000 patches per target. Even color measurements of complex substrate surfaces such as ceramics, glass, textiles or metal are possible due to special optimizations. Additionally, the RSC takes measurements of very small objects, for instance from business card sized labels, from which the RSC can read up to 1000 color patches in just a few seconds, which will be processed into high-quality ICC profiles.



RSC already includes an option to measure backlit-materials (transmissive measurement), in order to process and profile objects like City Light posters and backlight displays. In batch mode the RSC allows the creation of up to 20 profiles per hour.



There are no limitations for applying the RSC. Fast and secure high-quality ICC profiling (CMYK, RGB, aNyColor) from very small objects is possible as well as processing those profiles with any ICC-compatible image editing or RIP software, e.g. Productionserver. The minimum patch size is only 1 mm.



Measurements and profiles can be acquired from different conditioned substrates, such as:



From non-white/tinted or colored substrates, such as:





Corrugated



Leather



Metallic surfaces



Wood, ceramics



From translucent substrates, such as:





Backlit-materials



Glass



High gloss ceramic tiles



High gloss finished décor panels



Metallic surfaces



From structured substrates, such as:





Carpets



Ceramic tiles



Leather



Textiles



In addition, the RSC is easy to transport (32 kg weight) and will be delivered therefore in a flight case. The measurement unit´s flight case has a build in trolley and is setup in less than 5 minutes, which is interesting for color management service provides, because the RSC can be used for on-site jobs. The delivery contents are besides the flight case, a software for target generation and ICC profiling, as well as a Value Pack 365 software maintenance and support contract.



Productionserver

ColorGATE presents a Productionserver configuration with speed optimized output of multi-page and PDF-VT files for the first time at the booth of the development partner ALS Engineering.



Print jobs containing several thousand pages can now be ripped, color managed and screened corresponding to the output resolution simultaneously without any delay at the output system. ColorGATE utilizes the latest Adobe PDF Print Engine 3.7 as Raster Image Processor engine (RIP engine) and further optimized it for high performance processing of multi-page documents in Productionserver. During this process a continuous data rate of up to 4 gigapixel per second are generated.



This will be facilitated amongst others by parallelizing the processing during print data generation and forwarding to the digital printing system ("Rip while Print").



Moreover, Productionserver takes on the fully automated creation of the control information of the integrated device for shape-precise label cutting via laser.



Therefore, Productionserver is well suited for the application in digital label printing, for instance in connection with a digital roll adhesive label printer, like the new system of ALS Engineering, which will be shown at Labelexpo Europe 2015.



VDP Creator

With VDP Creator (VDP, Variable Data Printing) ColorGATE offers a very inexpensive and extremely easy to use software solution for Variable Data Printing via digital printing systems.



Applying the functional-rich stand-alone design software users can create professional individualized artworks of static and variable elements (e.g. of a database) in minutes via the clear structured and intuitive graphical user interface (GUI) without requiring any in-depth graphic design or graphic software skills. Through a variety of professional functions even complex data structures and layouts can be simply merged by drag and drop, e.g. text, images, graphics (also transparencies and overlays are possible), barcodes, QR codes, etc.



VDP Creator makes assembly of templates/ layouts as well as static and dynamic elements to an individualized artwork quick and easy.



ColorGATE will be present at Labelexpo Europe 2015 in Brussels (Sept. 29th – Oct.2nd), in hall 9, stand B51 at the ALS Engineering GmbH booth, to answers all questions concerning Printing Software, Color Management and Digital Label Printing and to discuss possible upcoming projects.



About ColorGATE

Since 1997 ColorGATE has been successful developing software solutions, RIP Software and printer driver technology for the Commercial Printing (Digital, Conventional Printing, Prepress) and Industrial Printing.



Our core product Productionserver a modular RIP and Color Management software is used by thousands of digital imaging end users all around the world every day. We are actively engaged in the emerging Industrial Printing market since its beginnings 10 years ago. With SmartControl we are offering a complete practice-approved Industrial Printing Operating System (IP OS).



As experts for excellent Color Management and comprehensive control of printing systems, we are committing our knowledge day-to-day to our end users and partners to deliver individual and flexible solutions for various requirements and application areas.