Colored Aluminum Cans help differentiate products.
Press Release Summary: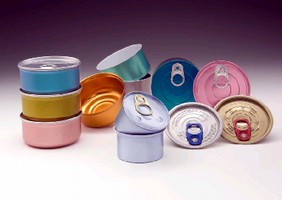 Designed to grab consumer attention, 2-piece Aluminum Draw Redraw Cans are available in wide variety of translucent color choices. Both ends and tabs can also be color matched or contrasted, extending color combinations to almost infinite level. Applications include food and pet products where product differentiation is critical component of brand's marketing strategy.
---
Original Press Release:

New Colored-Aluminum Cans From Silgan Containers Give Packers a Fresh, New Way to Differentiate Products



Woodland Hills, CA (March 14, 2007) -A line of colored, aluminum cans is being offered by Silgan Containers for packers looking for a new way to grab consumer attention.

Two-piece, aluminum draw redraw (DRD) cans now can be manufactured in a wide variety of translucent color choices for maximum shelf appeal and differentiation. The capability can also be extended to can ends and tabs, providing a platform for a multi-colored marketing statement.

A 2006 packaging study conducted by Perception Research Services found that one of the factors driving results for "top performers" was that roughly half introduced a new structure or color. Since 68% of all purchase decisions are made at the shelf, according to the study, color options continue to be a critical arrow in the marketer's assault quiver.

Silgan Containers' state-of-the art manufacturing capability and close working relationships with upstream suppliers, such as aluminum and coating companies, are the driving forces behind the commercialization.

The ability to work backward in the supply chain is critical because the pigment is added to the coating, which is applied by the aluminum company with its coil coater. The aluminum coils are delivered to Silgan's plant ready to be drawn and redrawn into cans. (A coil of rolled aluminum is fed into a cupping press that first cuts a round disc, then draws or 'punches' the disc into a cup. This cup is drawn a second time to achieve its final shape and bottom before being trimmed to become a finished container.)

Although silver and gold alternatives have been available to the marketplace for years, Silgan Containers' new color options create a much wider palette from which to choose. Packers also benefit from the added capability of being able to color match or contrast both ends and tabs. This extends marketing/differentiation color combinations to an almost infinite level.

Additionally the color capability is a perfect compliment to the company's Quick Top® line of easy-opening (EZO), full-panel ends. Ideal applications include a wide variety of food and pet food products where product differentiation is a critical component of the brand's marketing strategy.

Silgan Containers, a subsidiary of Silgan Holdings, is the largest manufacturer of metal food containers in North America, with approximately half of the U.S. unit volume in 2006 and net sales of $1.6 billion. Its leadership is driven by high levels of quality, service and technological support, low cost producer position, strong long-term customer relationships and its proximity to customers through widespread geographic presence.

Silgan Containers manufactures and sells steel and aluminum containers that are used primarily by processors and packagers for food products, such as soup, vegetables, fruit, meat, tomato based products, coffee, seafood, adult nutritional drinks, pet food and other miscellaneous food products. For more info visit: www.silgancontainers.com.

Please forward sales inquiries to:
Silgan Containers, Inc.
21800 Oxnard St # 600
Woodland Hills, CA 91367
Phone: (818) 348-3700
Email: generalinfo@silgancontainers.com

More from Electronic Components & Devices