Color Workgroup Document Systems target mid-volume applications.
Press Release Summary: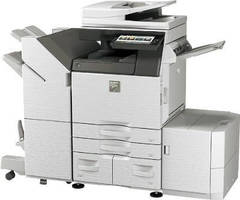 MX-3050N, MX-3550N, and MX-4050N color Essentials Series document systems offer full multifunction – out-of-box copying, network scanning, and network printing – capability at respective speeds of 30, 35, and 40 ppm. Affording intuitive operation via graphical interface, function-specific screens, and access to integrated on-board operation guide, touchscreen helps users set up and execute workflow tasks. All models also come with multi-layered security features.
---
Original Press Release:

Sharp Continues Introduction of New Mid-Volume Color Workgroup Document Systems



New Essentials Series models join the Advanced Series announced this past December



MAHWAH, N.J. -- Today, Sharp Imaging and Information Company of America (SIICA), a division of Sharp Electronics Corporation, announced three more models in a new series of color workgroup document systems, which will grow to 10 models by the second quarter of 2016, all built on a single engine platform.



The MX-3050N, MX-3550N and MX-4050N color Essentials Series document systems are designed for cost-conscious customers, offering full multifunction capability at a strong value. The new models provide out-of-box copying, network scanning and network printing at speeds of 30ppm, 35ppm and 40ppm, respectively.



This past December, Sharp announced the MX-3070N, MX-3570N and MX-4070N color Advanced Series document systems, which are available in the same speeds as the color Essentials Series, but are designed for workflow-intensive environments and offer businesses more solution-centric features.



The color Essentials Series and color Advanced Series document systems are both designed with users in mind, enabling them to easily set up and execute their workflow tasks. These models are all equipped with Sharp's next-generation touchscreen display, offering businesses an intuitive graphical interface with Easy Copy and Easy Scan screens, as well as quick access to an integrated on-board operation guide. These models also come equipped with Sharp's multi-layered security features, which can help ensure the customers' intellectual property and personal information are protected on the device from the first day of operation to the time of trade-in.



The color Essentials Series and color Advanced Series are built on a clean sheet, single-engine design, empowering businesses of every size to choose the performance and features they need, while taking advantage of the learning curve of a common interface. Businesses will also appreciate the common toner supplies on all of these models.



"The new Essentials Series and Advanced Series family of color document system products have been designed to help businesses streamline their office workflow while providing an intuitive user experience, flexible integration and enhanced productivity," said Shane Coffey, Senior Director, Hardware Product Management, Sharp Imaging and Information Company of America. "We are excited to introduce the new color Essentials Series, which now joins the color Advanced Series, offering businesses greater flexibility in balancing their needs within budget requirements."



Availability

The new MX-3050N, MX-3550N and MX-4050N Essentials Series color document systems are available immediately for purchase via authorized Sharp dealers and direct sales.



About Sharp Imaging and Information Company of America

Sharp Imaging and Information Company of America, a division of Sharp Electronics Corporation, markets the advanced, MX Series multifunction printers (MFP) systems that help companies manage workflow efficiently and increase productivity. Sharp MFPs feature the Sharp OSA(®) development platform, which seamlessly integrates network applications to create a personalized MFP that can meet virtually any business need, and Scan(2) technology, which scans two-sided documents in a single pass to enhance scanning reliability and preserve document integrity. To keep documents safe from unauthorized users, Sharp is a leader in the MFP industry in security.



For more information on Sharp's business products, contact Sharp Electronics Corporation, 1 Sharp Plaza, Suite 1, Mahwah, N.J., 07495-1163. For online product information, visit our web site at siica.sharpusa.com.



Become a fan of SIICA on Facebook, follow us on Twitter and LinkedIn and watch us on YouTube.



CONTACT: Sarah Sanzari

Peppercomm for Sharp

212.931.6175

SSanzari@peppercomm.com

More from Optics & Photonics