Color Masterbatch boosts gloss in high density polyethylene.
Press Release Summary: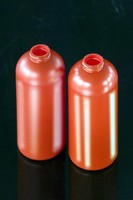 Compliant with FDA guidelines for direct food contact, POP(TM) High Gloss Colors, combined with HDPE, enhance inherent gloss of resin to create opaque HDPE containers. Mechanical properties allow use of high-gloss HDPE in both monolayer bottles and as skin in multilayer bottles. POP colors run in existing HDPE molds on both high- and low-speed extrusion machines and incorporate SmartColor(TM) Process Technology, facilitating purging during color changeovers.
---
Original Press Release:

New Color Masterbatch/High-Gloss HDPE Combination Yields Molded Packaging Having PET-Like Gloss at Less Cost than PET



Combination Boosts Gloss Over 200% vs. Standard HDPE, Improves Mechanical Properties

Tarrytown, NY, Jan. 11, 2007 - The preference for high-gloss, molded packaging in the personal care, cosmetics, food and other sectors has heightened the production and performance trade-offs packagers make to gain this look. A proprietary combination of a specialty high density polyethylene (HDPE) and POP(TM) High Gloss Colors, a new color masterbatch from Ampacet developed to enhance the inherent gloss of this resin, reduces these trade-offs. The combination also gives high-gloss HDPE packaging improved mechanical properties when compared to other high-gloss alternatives.

The POP colors-resin combination boosts gloss more than 200 percent over that typically found in standard HDPE. As a result, it creates opaque HDPE containers that often can replace those made of PET (polyethylene terephthalate) to yield significant cost and processing advantages.

"Packagers have gravitated to higher gloss to help their plastic bottles and containers stand out on retail shelves," says Doug Brownfield, strategic business manager. "Our POP colors approach gives them an alternative path to gain higher gloss by using HDPE without sacrificing the performance and integrity found in blow and injection molded PET packaging.

"This is important because HDPE is less expensive than PET and requires less costly processing equipment. It also does not have the processing issues associated with PET. POP colors also let packagers add special effects that are hard to gain in high-gloss PET packaging."

Compared to other products that boost gloss in HDPE, POP colors provide for greater HDPE stiffness and better melt strength. The improved mechanical properties allow the use of high-gloss HDPE in both monolayer bottles and as the skin in multilayer bottles. Other high-gloss HDPE compounds lack sufficient parison strength for monolayer bottles and so are only used in outer layers. The use of POP colors also avoids issues involving melt fracture or excessive parison hang time and aids column crush strength.

The relatively low tackiness of HDPE containing POP colors practically eliminates de-molding issues and many downstream handling issues, such as scuffing and hang-ups during conveying. HDPE containing POP colors has a relatively high heat deflection temperature, so it is less susceptible to deformation when packaging is stored at higher temperatures, such as in a hot warehouse during summer. POP colors also comply with US Food and Drug Administration guidelines for direct food contact.

POP colors run in existing HDPE molds on both high- and low-speed extrusion machines and other equipment. They incorporate Ampacet's SmartColor(TM) Process Technology, which makes purging easier during color changeovers. The presence of SmartColor technology in POP colors reduces downtime, optimizes production and improves product quality.

About Ampacet
Ampacet Corporation is a global masterbatch leader and offers the broadest range of custom color, special effect, black, white and specialty additive masterbatches for extrusion, molding and a multitude of other processes and applications. Founded in 1937, it now employs more than 1,500 people and has revenues exceeding $650 million. Headquartered in Tarrytown, N.Y., Ampacet Corporation operates technical and color development centers and manufacturing sites throughout the Americas, Asia and Europe.

For more information on POP High Gloss Colors, contact: Doug Brownfield, Ampacet Corporation, 660 White Plains Rd., Tarrytown, NY 10591. Tel: (513) 247-5412. E-mail: doug.brownfield@ampacet.com. Or visit: www.ampacet.com.

POP(TM) Colors Photo Caption
A proprietary combination of Ampacet's new POP(TM) High Gloss Colors masterbatch and a specialty, high density polyethylene resin creates bottles (on the right) having more than 200 percent better gloss than is typically seen with HDPE. The combination gives packagers the option to gain the gloss of polyethylene terephthalate in many containers at significant cost and processing advantages versus PET.


More from Laboratory and Research Supplies and Equipment