Color Laser Printer prints 35 pages per minute.
Press Release Summary: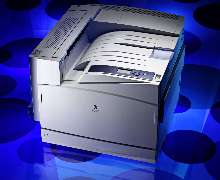 Phaser® Series 7750 Color Laser Printer incorporates PhaserMatch 3.0 color-matching tool for creation of color proofs. PhaserCal color-calibration software provides accurate and consistent color regardless of page quantity. Printer runs on 715 MHz processor that prints first color page in 11 sec. Ethernet connectivity, USB 2.0, and Adobe PostScript 3 are integral. Images up to true 1,200 dpi are printed in sizes from 4 x 6 in. postcard to 12 x 47.25 in. banner sheet.
---
Original Press Release:

Xerox Leads the Office Printing Market with Stand-Out Speed; New Color Entry is 46 Percent Faster than Competition


Phaser® 7750 Color Laser Printer Offers Unmatched Speed and Color Quality For Graphic Arts Professionals

NEW YORK, Jan. 29, 2004 - Xerox Corporation (NYSE: XRX) today announced the Phaser 7750 Color Laser Printer, the industry's fastest printer in its class. Capable of printing at 35 pages per minute, the Phaser 7750 is 46 percent faster than the closest
competitive Hewlett-Packard printer available today. With a variety of color management tools and print resolutions it's designed for graphic artists or office professionals who need high quality, high-performance on-demand printing capabilities for day-to-day printing and pre-press proofing.

"The unmatched combination of speed, color, image quality and robust design clearly puts the Phaser 7750 at the head of the class," said Emerson Fullwood, president, Xerox Channels Group. "With our color imaging technology, design professionals will have the confidence that what they see, is what they will get. Our exclusive PhaserMatch 3.0 technology allows output printed on the Phaser 7750 to match an offset press."

PhaserMatch 3.0 is an enhanced color-matching tool that allows customers to create color proofs on the Phaser 7750 that will accurately match the color output produced on an offset printing press or other commercial printing device. PhaserCal is a new color-calibration software application from Xerox that guarantees accurate and consistent color regardless of the page quantity, ensuring the first print looks exactly like the last.

PhaserMatch 3.0 and PhaserCal are critical for graphic design customers who want to expedite the creation and delivery of comps and press proofs to their clients without the expense and workflow disruption of engaging an outside service. Both tools
are compatible with Windows and Mac OS environments.

The Phaser 7750 runs on a 715 MHz processor that prints the first color page in less than 11 seconds and first black-and-white page in 10 seconds. It supports a 150,000 monthly duty cycle. It comes with USB 2.0 and Ethernet connectivity along with
genuine Adobe PostScript 3. The Phaser 7750 offers three print modes, including the ability to print at true 1200 dpi for fine detail and photographic images, and supports an extensive range of media sizes, from a 4" x 6" postcard to a 12" x 47.25" banner sheet.

With the Phaser 7750, Xerox offers easy-to-install print drivers and smart software tools to help customers better manage their printers. Intelligent features include PrintingScout, a software tool that alerts the user of issues such as when the paper or toner have run out; PhaserSmart(TM), a Web-based technical support feature; CentreWare® IS, a server-based application that helps manage both Xerox and third-party devices on the network; and Intelligent Ready, a software feature that minimizes printer warm-up time by responding to recent usage patterns.

The Phaser 7750 color laser printer comes with a one-year on-site warranty and the Xerox Total Satisfaction Guarantee. Xerox also offers toll-free telephone support and online customer support. The Phaser 7750 will be available immediately for
distribution worldwide through Xerox direct sales, resellers and dealers at an estimated retail price of $5,599.

Customer Contacts:
For details on Xerox office printers, call 877-362-6567 or visit http://www.xerox.com/office.