Color Gauge provides true spectral analysis.
Press Release Summary: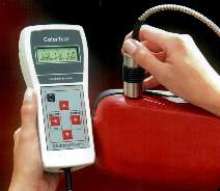 Working on spectrophotometric principle, ColorTest features 45°/0° measuring geometry according to DIN 5033. External probe illuminates sample with defined light source to measure spectrally light remitted. Unit includes external spring-loaded probe head, automatic/manual start trigger, 4-button menu control, and non-volatile memory for 1,000 color readings. It is suited for quality control, color distance measurement, and measurement of absolute color spaces.
---
Original Press Release:

ColorTest Color Measuring Gage


Meets DIN 5033, DIN EN ISO 9000
True spectral analysis!

o Portable colorimeter with external probe
o 45°/0° measuring geometry according to DIN 5033
o Small probe head, spring-loaded
o Automatic/manual start trigger
o Simple 4 button menu control
o Nonvolatile memory for 1000 color readings and for 100 color readings including remission spectra
o Backlit graphic display
o Comprehensive data processing software

Advanced Color Measurement
Designed for high-precision color measurement the versatile ColorTest works on the spectrophotometric principle which is by far the most advanced and precise color measurement method. Featuring a 45°/0° measuring geometry according to DIN 5033, the external probe illuminates the sample with a defined light source to measure spectrally the light remitted. ColorTest is ideal for:
o Quality control on the production floor (reduced reject rates)
o Color measurement and recording for quality conformance inspection for QM-systems according to DIN EN ISO 9000 standards
o Color distance measurement (sample/reference)
o Measurement of absolute color spaces (in a pre-selected color system and with selected type of standard illumination and observation angle)
o Evaluation of measured color information (optional report software)

High repeatability, comprehensive report software and an excellent cost/performance ratio make ColorTest an indispensable and powerful tool for quality control, Other advantages:
o External, spring-loaded probe for measuring even small parts at any angle
o Small probe head due to sample illumination through LEDs
o Nonvolatile data memory for up to 1000 color readings and for 100 color readings including remission spectra
o Serial data transmission

If you would like more information please call:
1-800-762-2478

More from Chemicals & Gases