Color Dispenser simultaneously dispenses up to 6 colors.
Press Release Summary: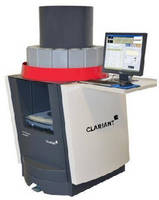 Targeting Point of Sale tinting segment, Model IQ-S16 provides dispensing speed of 1.1 Lpm with accuracy down to 1/384 fl oz. Machine utilizes stainless steel piston pumps powered by single motor that controls entire system. Featuring 0.53 m³ footprint to save shop space, dispenser handles all kinds of low VOC water-based and universal colorants. Fully automatic unit can be equipped with up to 16 canisters with standard capacity of 3 L each, to match optimum refill cycles.
---
Original Press Release:

Clariant Launches Unique POS Color Dispenser Machines



Muttenz, – Clariant, a world leader in specialty chemicals, will create a stir among the Point of Sale (POS) Tinting segment with its launch of the first compact Color Dispenser to allow simultaneous dispensing of up to six colors at a time. Clariant's machine is one of two new innovative prototypes offering performance and productivity benefits to retailers.



New Clariant Color Dispenser IQ-S16 is one of the most compact machines now available on the market with simultaneous colorant dispensing mode. With a footprint of 0.53m³, it saves on shop space without losing performance and accuracy. As with all Clariant dispensers, it is amongst the fastest and most reliable on the market, which makes it ideal for busy retail environments.



Clariant's dispensing technology allows a dispensing speed of 1.1l/min with accuracy down to 1/384 fl.oz. It is based on stainless steel piston pumps powered by a single motor that controls the entire system. The easy-to-use machine offers low cost operation and ownership. It is virtually calibration free and, as colorant is dispensed directly into paint without the need for tubing, it keeps maintenance time and costs to a minimum.



Color Dispenser CD3001 is designed to serve the majority of paint stores which are looking at design and good price. It offers the same performance and productivity advantages as Clariant's more compact model, the IQ-S16.



All Clariant machines are designed to handle all kinds of low VOC water based and universal colorants to support the sustainability requirements of the paints industry. The fully automatic colorant dispensers can be equipped with up to 16 easy-to-mount canisters with a standard capacity of 3 liters each, to match optimum refill cycles.



Dr. Gerd König, Vice President Global Marketing & Sales Coating Business / Business Unit Pigments, Clariant comments: "The new Clariant POS Dispenser Machines offer a smart solution to paint stores and retail environments, based on four decades as a pioneer in tinting machine technology."



Clariant launches unique POS Color Dispenser Machines

- Innovative color dispenser offers fast and accurate dispensing technology at low cost of operation

- Compact foot print and unique performance allowing up to 6 simultaneous colorant dispensing



Clariant is a globally leading specialty chemicals company, based in Muttenz near Basel/Switzerland. On December 31, 2012 the company employed a total workforce of 21,202. In the financial year 2012, Clariant recorded sales of CHF 6.038 billion for its continuing businesses. Continuing businesses are comprised of the following seven business units: Additives, Catalysis & Energy, Functional Materials, Industrial & Consumer Specialties, Masterbatches, Oil & Mining Services and Pigments. Clariant's corporate strategy is based on four strategic pillars: profitability of the core businesses, research & development and innovation, dynamic growth in emerging markets, and repositioning of the portfolio.



CORPORATE MEDIA RELATIONS

MEDIA RELATIONS EMEA

KAI ROLKER

Phone +41 61 469 63 63

kai.rolker@clariant.com



ULRICH NIES

Phone +49 6196 757 83 65

ulrich.nies@clariant.com



STEFANIE NEHLSEN

Phone +41 61 469 63 63

stefanie.nehlsen@clariant.com



ALEXANDRA KUTSCHENREUTER

Phone +49 6196 757 80 12

alexandra.kutschenreuter@clariant.com

www.clariant.com

More from Fluid & Gas Flow Equipment