Collet Chucks offer alternative to 3-jaw chucks.
Press Release Summary: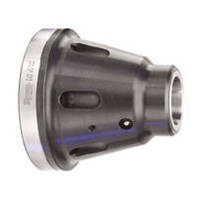 Balanced by design for high-speed operations, Accu-Length CNC Collet Chucks expand milling machine and lathe application possibilities. Units are hardened for strength and durability, and less prone to negative effects of centrifugal force than 3-jaw chucks. Master collets contain multiple keyways for fine adjustability, which is useful for second-spindle applications.
---
Original Press Release:

Collet Chucks a Better Alternative to Three Jaw Chucks



Royal Products is America's leading manufacturer of precision metalworking tools and accessories for over 60 years. Our broad product line consists of hundreds of high-performance tooling and workholding products including CNC Collet Chucks, Collets and Collet Closers, Live Centers, Filtermist Mist Collectors, Albrecht Drill Chucks, Quick-Change Power Chucks, and Rota-Rack Rotary Parts Conveyor Accumulators. Workholding devices are easy to install, reasonably priced, and built rock-solid to handle the toughest jobs our customers can throw at them. In addition to our standard collet chuck line, Royal Products also offers a wide range of Custom collet chucks, fixtures and turnkey workholding packages.

Royal announces a low profile Collet Chuck for high speed operations with maximum rigidity.

Accu-Length CNC collet chucks are opening expanded milling machine & lathe application possibilities. Chucks are balanced by design for high-speed operation, and can often be run at higher speeds than conventional 3-jaw chucks because they are less prone to the negative effects of centrifugal force. All Royal Accu-Length collet chucks have been optimized for maximum outstanding rigidity, and all components are hardened for strength & durability. Fine adjustability master collets contain multiple keyways for fine adjustability. This is an especially useful feature for second-spindle applications. Unbeatable pricing. Not only does Royal Products build the highest quality collet chucks, for the most demanding applications, and deliver them immediately, but we do it all for a price that is significantly lower that the competition. Fair pricing has always been one of Royal's core philosophies, and we pursue it aggressively.

Royal Products maintains a large inventory of CNC collet chucks to ensure immediate delivery, and each chuck comes complete with a custom-machined drawtube connector and all mounting hardware for hassle-free installation. Royal Products is an ISO-registered company dedicated to continuous improvement. We embrace lean manufacturing principles and have earned an excellent reputation among metalworking professionals for outstanding product quality. The right workholding systems can significantly boost turning productivity.

In addition to our standard line of CNC Collet Chucks we feature V-Flange Tool Holders, 5C and R8 Collets and Tooling, CNC Bar Pullers, Live and Dead Centers, Machine Shop Accessories, and Deburring Tools and Blades. Automation Systems conveyor accumulators for parts accumulation with steel turntable is available with Royal's Rota-Rack for large volume collecting of finished parts.

Strong technical support is one of Royal's key strengths. Our experienced applications engineers are always available to speak with customers and prospects to review their applications, and help them choose the best tools for their needs. Call Toll Free 1-800-645-4174 or fax us Toll Free at 1-800-424-2082. See us on the web at www.royalprod.com or email us at info@royalprod.com.

More from Material Handling & Storage