Collapsible Load Carrier safely transports large, light loads.
Press Release Summary: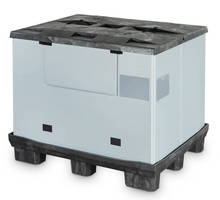 Consisting of pallet, cover, and collapsible ring, CabCube 2.0 facilitates transport of large-volume, lightweight components to production lines and warehouses. Pallet's flat, fully sealed surface enables neat placement of various goods and partitions and eliminates need for floor panels. Weighing 39 kg, carrier efficiently absorbs rough handling and hard impacts caused by conveyor vehicles. Individual parts can be replaced, and there is no need to replace entire container.
---
Original Press Release:

Cabka-IPS Extends its Offering for Automotive and Warehouse Logistics



CabCube 2.0, the new collapsible large load carrier for safe material transports.



Cabka-IPS, a manufacturer of product solutions made from recycled plastic, is launching CabCube 2.0, its new collapsible large load carrier. CabCube 2.0 evolves the company's other market-tested large load carriers and can serve the supply industries across all market segments. It has been tailored to transport large-volume, yet lightweight components for just-in-time deliveries to productions lines and warehouses.



Cabka-IPS has many years of know-how and experience in producing large load carriers. The company already produced tens of thousands of collapsible large load carriers for Volkswagen and excelled in punctual deliveries and reliability.



CabCube 2.0 consists of three parts: pallet, cover, and collapsible ring. One key product innovation is the pallet's flat, fully sealed surface, enabling neat placement of a variety of goods and partitions and eliminating the need for costly floor panels. Cabka-IPS also opens up greater flexibility for customers: They can purchase pallet and cover without the collapsible ring. This is a great advantage for manufacturers of customized partition packaging.



Thanks to its injection-molded production process, CabCube 2.0 impresses with robustness, dimensional accuracy, and high durability, differentiating itself in the marketplace where thermoformed products are common. Accurate manufacturing increases the load carriers' stability when pallet, cover, and collapsible ring interact.



CabCube 2.0's compactness makes it a superior product, and it is ideal for long routes and distances. Rough handling and hard impacts caused by conveyor vehicles are well absorbed. In the event of a repair, the individual parts can be replaced and there is no need to replace the entire container. With its 39 kilograms, the container is still very light and easy for employees in logistics to handle. It is therefore perfect for dealing with the logistical challenges specific to the supply chain.



And CabCube 2.0 is cost-effective and flexible as the volume can be kept to a minimum. In just a few steps, the ring can be collapsed and, along with the base and cover, stacked on top of one another. This allows practical and cost-effective return transports. One truck load can transport a total of 364 empty boxes, so CabCube 2.0 achieves a volume-reduction of up to 80 percent.



Information about CABKA-IPS:

CABKA-IPS produces plastic pallets and boxes in Weira (Germany), Ypres and Herstal (Belgium), Valencia (Spain), and St. Louis, MO (USA). The company employs 570 people in Europe and North America. Cabka-IPS is represented with its products in more than 80 countries.

More from Architectural & Civil Engineering Products