Collaboration Software shares 2D and 3D product design data.
Press Release Summary: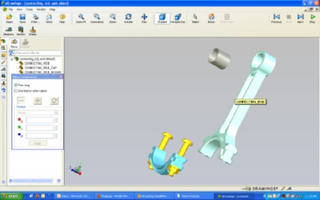 Supporting Solid Edge ST3 and eDrawings 2011, eDrawings Professional for Solid Edge Version 8.0 allows users to publish Solid Edge files as read only, as well as compact eDrawings files for visualization, collaboration, and design review. Users can search or filter component names from components tree, view dynamic cross-sections of part and assembly files by creating cross section planes, and add markup elements to comments, such as geometric elements, clouds, text, and dimensions.
---
Original Press Release:

Geometric Releases eDrawings Professional for Solid Edge Version 8.0



Includes support for Solid Edge ST3 and eDrawings 2011

Mumbai, India, : Geometric Limited (BSE: 532312, NSE: GEOMETRIC), a leader in Product Lifecycle Management (PLM), Global Engineering Services and Offshore Product Development (OPD) solutions and technologies, today announced the release of eDrawings Professional for Solid Edge version 8.0 with support for Solid Edge ST3 and eDrawings 2011.

eDrawings is the first email enabled collaboration tool designed to ease the sharing and interpretation of 2D and 3D product design data.

The new version of eDrawings Professional for Solid Edge includes:

o Support for Solid Edge ST3

o Enhancement of Stamp feature with additional support for PNG and TIFF file format

o eDrawings viewer version upgraded to eDrawings 2011

o Triad to Move/Constrain component movement to a coordinate axis or plane, or to rotate components about a coordinate axis

o Search or Filter component names from the components tree

For a free 15-day trial, please visit edrawings.geometricglobal.com. For pricing and purchase options please contact [email protected].
eDrawings Publishers are also available for Pro/ENGINEER®, CATIA V5®, NX®, Autodesk Inventor®, Google SketchUp®, as well as for STEP/IGES/STL/OBJ/RHINO/DGN and DWG/DXF files.

With eDrawings Publishers you can:

o Generate ultra compact eDrawings (up to 95% compressed) for sharing over email

o Share and receive feedback on product designs with review-enabled eDrawings and collaborate with unlimited number of recipients

o Manage, track, and merge comments from different team members

o Measure part, assembly and drawing geometry

o Use Dynamic Cross Sectioning and Hide/Show/Move components for understanding assembly structure

o Visualize drawings effectively with 3D Data, Layouts and 3D Pointer tool

o Insert Stamps, Password Protect and Disable Measurement for protecting sensitive design data

For more information on eDrawings, please visit edrawings.geometricglobal.com.

About Geometric

Geometric (www.geometricglobal.com) is a specialist in the domain of engineering solutions, services and technologies. Its portfolio of Global Engineering services and Digital Technology solutions for Product Lifecycle Management (PLM) enables companies to formulate, implement, and execute global engineering and manufacturing strategies aimed at achieving greater efficiencies in the product realization lifecycle.

Headquartered in Mumbai, India, Geometric was incorporated in 1994 and is listed on the Bombay and National Stock Exchanges. The company recorded consolidated revenues of Rupees 5.11 billion (US Dollars 108.1 million) for the year ended March 2010. It employs over 3600 people across 10 global delivery locations in the US, Romania, India, and China. Geometric was assessed as CMMI 1.1 Level 5 for its software services and is ISO 9001:2008 certified for engineering operations.

Geometric's Desktop Products and Technologies (DPT) business unit develops cutting-edge point productivity solutions that enhance design and improve manufacturing operations. The end-user products from Geometric include CAMWorks®, eDrawings® Publisher, DFMPro, GeomCaliper® and 3DPaintBrush(TM). The key technologies from Geometric are NestLib®, Feature Recognition (FR), GeomDiff and 3DSearchIT®. Geometric licenses these technologies to OEM partners and also designs and implements customized process solutions using these technologies for industrial customers.

For further details about Geometric's DPT business unit, please visit www.geometricglobal.com/products or call +1.480.222.2255

The copyright/ trademarks of all products referenced herein are held by their respective companies.