Coil Unwinder/Straightener/Feeder handles high-strength materials.
Press Release Summary: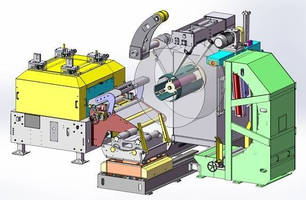 SpaceMaster Series 4 combines unwinding, straightening, and feeding of coil stock into one piece of equipment that occupies 22 ft of floor space. While Feeder-Straightener features servo-actuated pilot release of upper straightener rolls, systems also feature tension-maintaining powered pull-off rolls. Products handle materials – CRS, HRS, AHSS, stainless, and aluminum – from .020–.40-in. thick and 12–72 in. wide and 10,000–60,000 lb coil weights. Press feeding speeds range from 70–80 spm.
---
Original Press Release:
COE Introduces SpaceMaster Series 4 Coil Feed Line
Handles high strength materials in space constrained areas

Sterling Heights, Mich. – COE Press Equipment is featuring its new SpaceMaster Series 4 compact coil lines at FABTECH 2015 in booth #S4734. The compact coil line combines unwinding, straightening and feeding of coil stock into one piece of compact equipment capable of processing higher strength, higher yield materials within space-constrained areas.  The SpaceMaster Series 4 fits within 22-ft. of floor space where a conventional line would require a 40-ft. to 50-ft. footprint.

The Series 4 Feeder-Straightener features COE's new servo-actuated pilot release of the upper straightener rolls. The servo driven lift mechanism provides more accurate piloting timing, faster pilot release, and higher SPM's than hydraulic and pneumatic designs. The systems also feature powered pull-off rolls to maintain tension on heavy-gauge and high-strength materials.

The SpaceMaster Series 4 is capable of handling materials from.020-in to .40-in. thick, 12-in. to 72-in. wide, and 10,000-lb. to 60,000-lb. coil weights.  Materials capable of being processed include CRS, HRS, AHSS, stainless and aluminum.  The systems are capable of achieving press feeding speeds of 70 to 80 SPM as compared to 40 to 50 SPM in traditional compact coil lines.

Other features such as powered coil guides, hydraulic hold down with motorized endwheel, and pivoting peeler-debender are provided for effective coil containment and threading. Payoff is controlled by a linespeed averaging loop control and material is directed into a horizontal loop cage to optimize slack loop storage.  These machines are provided as standard with all necessary features for effective coil containment, hands-free threading, and accurate feeding of the coil strip.

COE Press Equipment will highlight its new SpaceMaster Series 4 coil processing lines in booth #S4734.

About COE Press Equipment
COE Press Equipment designs and manufactures a complete line of premiere coil handling and servo roll feed equipment from stand-alone roll feeds, straighteners, reels, cradles and air feeds to complete integrated feed systems and cut-to-length lines. The company supplies and services a wide variety of global markets and industries including automotive, appliance, lighting, metal processing, housewares, lawn and garden, contract stampers, tool and die builders, and many others. To learn more, visit www.coepress.com.

For additional information:                                                                                                                                        
COE Press Equipment
40459 Brentwood
Sterling Heights, MI  48310
Web:  www.coepress.com
Tel:  (586) 979-4400

Agency:
Nancy Lesinski, 248 709 3040 / [email protected]