Coil Grab includes built-in crane scale.
Press Release Summary: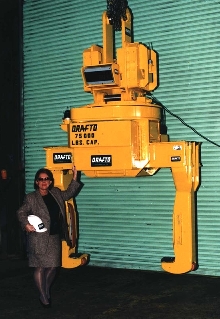 Motorized Rotating Coil Grab is equipped with continuous belt edge protector modules, dual plunger safety saddle trios, and front and rear rollers. Crane scale can be read directly on lifting device or remotely at base station. Weight data can be interfaced to other computer data as desired. Applications include steel warehousing facilities, steel mills, aluminum mills, stamping plants, and other heavy industrial manufacturing facilities.
---
Original Press Release:
Rotating Coil Grab (Motorized) with Built-in Crane Scale

Drafto Corporation of Cochranton, Pennsylvania, www.drafto.com, has just introduced its newest motorized Rotating Coil Grab with built-in Crane Scale.

The unit was engineered for a domestic crane application to be used by a major car manufacturer. Their intent is to check the weight of coils purchased from their steel suppliers. Because the grab provides the weight during the normal handling process there are no extra lifts involved.

The crane scale can be read directly on the lifting device or remotely at the base station. Weight data can be interfaced to other computer data as desired.

Drafto's rotating coil grab is also equipped with its standard patented continuous belt edge protector modules, dual plunger safety saddle trios, and front and rear rollers.

Other electronic and electrical features available from Drafto are:

- Electrical trips behind edge protector modules.

- Electronic eyes looking across from one saddle area to the other.

All these features help to position the coil grab over the center of the coil and handle it without edge or eye damage.

Drafto coil grabs and crane scales are being utilized in steel warehousing facilities, steel mills, aluminum mills, stamping plants and other heavy industrial manufacturing facilities.

Other Drafto manufactured equipment includes Crane Scales, Rotating Hook Blocks, Plate Lifters, Sab Tongs, and other overhead crane related material handling products.

For further information, contact Drafto Corporation, Cochranton, PA 16314, telephone (814) 425-7445 or fax (814) 425-8048 or visit us on our web site at www.drafto.com. Our e-mail address is drafto@csonline.net
More from Electronic Components & Devices