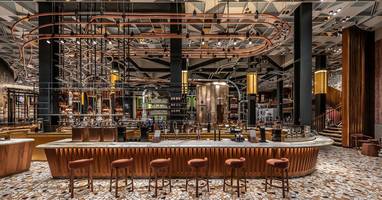 Hillside, Illinois (October 2018) – Ace Anodizing & Impregnating, Inc. Is proud to announce that many of their powder coated parts are being used in the new Starbucks Rotisserie that just opened in Milan Italy.
"Almost everywhere you look in the new roasting facility you can spot our parts" said Mike Battaglia, VP of Sales & Marketing for Ace. "While we are proud of all the work we do it is extra special to see our work in such an iconic facility opened by one of the most recognizable brands in the world" Mike added.
Ace is proud to have been chosen as the vendor of choice for this and other similar projects like the Starbuck headquarters in Seattle, WA.  Battaglia went on to add, "Our expanded capabilities introduced earlier this year have allowed us to become quite competitive in almost all markets." 
Ace is headquartered in Hillside, Illinois.
Please visit www.acemetalfinishing.com for more information or call:
Michael Battaglia
Vice President Sales and Marketing
mike@acemetalfinishing.com
Tele: 708-547-6680
Related