CoF Filter Connectors provide TVS surge suppression.
Press Release Summary: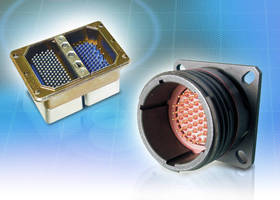 Offering contact counts of 1-600, Chip-on-Flex (CoF) connectors are available in rack and panel, circular and D-subminiature configurations. Filter design features one standard flex per layout and utilizes flexible circuit internal to connector, with chip capacitors surface-mounted on small pad adjacent to feed-thru contact. Tested to MIL-DTL-38999 Series III mechanical shock, vibration, and high altitude DWV specifications, connectors exceed 1,000 cycles of thermal shock per MIL-STD-1344.
---
Original Press Release:

ITT Enhances Chip-on-Flex Filter Connectors with TVS Surge Suppression Capabilities



Compact, lightweight package is 15% smaller than comparable MIL-DTL-38999 configurations...

PARIS, FRANCE - June 15, 2009 - ITT Interconnect Solutions, a leading global manufacturer and supplier of connectors, interconnects, and cable assemblies, has enhanced its Chip-on-Flex (CoF) filter connectors with TVS Surge (TVSS) suppression capabilities. The new CoF filter design features one standard flex per layout and utilizes a flexible circuit internal to the connector, with chip capacitors surface-mounted on a small pad adjacent to the feed-thru contact.

"The flex circuit design provides the necessary platform to surface mount TVS devices for lightning strike protection," said Keith Teichmann, director of marketing for ITT Interconnect Solutions. "This allows us to mount off-the-shelf devices for both filtering and surge protection using automated manufacturing processes, resulting in a highly cost-effective, compact, and lightweight design while still providing the robust, high performance filter connector required of many applications, including those in the military arena."

Tested to MIL-DTL-38999 Series III mechanical shock, vibration and high altitude DWV specifications, the CoF filter connectors exceed 1000 cycles of thermal shock per MIL-STD-1344. The CoF connectors feature contact count counts from one to 600 and are available in rack and panel, circular and D-subminiature configurations. The compact, lightweight connectors provide up to 15% space savings compared to standard MIL-DTL-38999 configurations.

Customizable circuit values are also available by adding or removing the chip capacitor and TVS devices. ITT also offers complete design and design change capabilities.

Typical pricing for the Chip-on-Flex filter connectors is approximately $175 each. Lead time is from 12 to 14 weeks ARO.

About ITT Interconnect Solutions

ITT Interconnect Solutions is an international manufacturer and supplier of connectors including circular, rectangular, fiber optic, RF, power and high voltage, audio, PCMCIA, Compact Flash Card, enclosures, cable assemblies, and application specific custom solutions. The Interconnect Solutions portfolio includes the brands Cannon, VEAM, and BIW. For more information on ITT Interconnect Solutions and an archive of its press releases, please visit www.ittcannon.com.

About ITT

ITT Corporation is a high-technology engineering and manufacturing company operating on all seven continents in three vital markets: water and fluids management, global defense and security, and motion and flow control. With a heritage of innovation, ITT partners with its customers to deliver extraordinary solutions that create more livable environments, provide protection and safety and connect our world. Headquartered in White Plains, N.Y., the company generated 2008 sales of $11.7 billion. www.itt.com.

Leads Contact:
Nas Echeverria
ITT Interconnect Solutions
666 East Dyer Road
Santa Ana, CA 92705
Tel.: +714-628-8370
Fax: +714-628-2249
Email: nas.echeverria@itt.com
Web: www.ittcannon.com

More from Software