Coated Carbide Inserts can turn tough alloys.
Press Release Summary: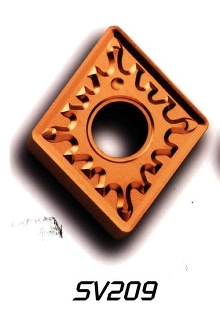 Carbide cutting tool inserts handle high temperature alloys. SV209 has micro-grain carbide substrate with multi-layer CVD coating, while VC949 has aluminum titanium nitride PVD coating over micro-grain carbide substrate. SV209 can turn chrome cobalt alloys, inconels, hastelloys, stellites, and stainless steels. VC949 can turn titanium and titanium alloys. Both grades are available in LM chipbreaker design that allows for wide application range.
---
Original Press Release:
Valenite Introduces Two New Coated Carbide Grades For Turning High Temperature Alloys

Valenite maximizes the benefits of CVD and PVD coatings to produce the toughness and wear resistant properties required to turn nickel and cobalt based alloys as well as titanium and titanium alloys.

Toughness and wear resistance are the key properties carbide cutting tool inserts require when turning high temperature alloys like titanium and materials that are nickel and cobalt based. In an effort to improve machineability of these materials, specifically for turning, Valenite has introduced two new coated carbide grades. SV209 features a micro-grain carbide substrate with a multi-layer CVD coating and VC949 with an AlTiN(Aluminum Titanium Nitride) PVD coating over the micro-grain carbide substrate. Both grades are available in the LM chipbreaker design that allows for a wide application range.

SV209 has been developed to effectively turn chrome cobalt alloys, inconels, hastelloys, stellites and stainless steels. The turning inserts feature Valenite's Multi-Layer TiCN/TiN coating that provides a natural barrier to microcrack propagation. The smooth surface texture of the inserts help reduce friction and heat in the cut, improving the insert's wear resistance. SV209 inserts are available in fourteen different CNMG, DNMG, TNMG, VNMG and WNMG insert sizes and LM and GF chipbreaker styles.

VC949 has been developed to turn titanium and titanium alloys. These inserts utilize an AlTiN coating applied by the PVD coating process that provides enhanced wear resistance. Valenite's new AlTiN coating has superior hot hardness and oxidational stability and serves as an insulator for the high temperatures encountered in machining these materials. The PVD
process provides a smooth crack-free surface coating that resists build-up. Because the PVD coating process is performed at lower temperatures than the CVD process, there is no brittle eta phase in the substrate that preserves carbide edge strength. VC949 AlTiN coated inserts can run up to 100% faster than similar uncoated designs with comparable tool life. VC949 inserts are available in six different CNMG insert sizes.

Valenite is one of the largest manufacturers of industrial cutting tools in the world. Headquartered in Madison Heights, Michigan, Valenite has manufacturing, sales and service operations on five continents. Valenite offers a complete line of standard and special indexable-insert turning, threading, grooving, boring, milling and drilling products to a variety of industries. Valenite also manufacturers carbide die and wear parts, extruded carbide products, high-speed steel cutting tools, and electronic gaging systems. In addition, special high-production tooling for custom machining systems is produced under the MODCO® name. Valenite also markets the VALCOOL® line of cutting fluids.

For Further Information Contact:

Allan G. Hall

Kracoe Szykula & Townsend Inc.

2950 West Square Lake Rd., Suite 207

Troy, Michigan 48098

Telephone: 248-641-7500

Fax: 248-641-4779

E-Mail:hip100@aol.com


More from Mechanical Power Transmission