Coalescers are offered with electric diaphragm pump.
Press Release Summary: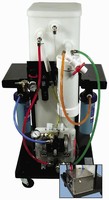 When equipped with electric diaphragm pump option, Snapdragon(TM) and Muscle(TM) Coalescers can be used even when shops are closed because they do not require air compressor to be operating. Snapdragon line, suited for use on multiple machine sumps, filters tramp oils and fines from metalworking fluids to promote healthier, longer-lasting coolant. Muscle line performs same job, but is recommended for individual machine sump use.
---
Original Press Release:

Zebra Skimmers Offers Electric Diaphragm Pump Option



Cleveland, OH -- Zebra Skimmers Corporation, a full-line manufacturer of oil skimmers and coolant maintenance equipment, now offers an electric diaphragm pump option for the Snapdragon(TM) and Muscle(TM) Coalescer lines.

According to Meg Grant, Inside Sales & Service, "Many customers prefer running the electric-powered pumps over the standard air-powered types. They can then utilize the coalescer even when their shops are closed since they do not require the compressor to be operating. In addition, many times electric power is more accessible, especially for smaller shops."

Zebra's Snapdragon Coalescer is for use on multiple machine sumps to filter tramp oils and fines from metalworking fluids to promote healthier, longer-lasting coolant. The Muscle Coalescers do the same job but are recommended for individual machine sump use.

Zebra Skimmers, the leader in coolant maintenance for over a decade, invents new technology to save its customers money on coolant while reducing waste, and sells and supports its equipment worldwide. Most products are guaranteed for at least a year, and some for life.

For your free catalog, contact: Zebra Skimmers Corporation, Phone: 888-249-4588;
Email: Meg@ZebraSkimmers.com; or request online: www.ZebraSkimmers.com.

Quality Coolant Performance Products
P.O. Box 833 Chagrin Falls, OH 44022 www.ZebraSkimmers.com
Toll Free: 888.249.4855 Phone: 440.349.0141 Fax: 440.349.1211

More from Mechanical Components and Assemblies