Plasma / Flame / Laser Cutters and Cutting Machinery
CO2 Laser is offered in air- and liquid-cooled models.
Press Release Summary: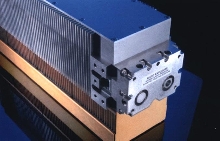 GEM-30(TM) low-power CO
2
laser offers more than 30 W of output power at 10.55 to 10.63 micrometers, with greater than 98% TEM
00
spatial mode and M²<1.2 beam quality. Power supply RF driver is integrated into same housing as laser head. Laser features rise time of less than 60 microseconds, runs on 48 Vdc (12 amps), and is equipped with RJ-45 Ethernet connector.
---
Original Press Release:

Coherent Combines Excellent Beam Quality with Compact Package in New 30W CO2 OEM Laser


Santa Clara, Calif., July 2, 2002 - Coherent, Inc. (Santa Clara, CA) (Nasdaq: COHR) unveils a new low-power CO2 laser that features excellent beam quality and a very small footprint. Called the GEM-30(TM), this OEM laser provides more than 30W of output power at 10.55- to 10.63-micrometer with a greater than 98% TEM00 spatial mode and M²<1.2 beam quality. It is ideal for marking, engraving and desktop manufacturing.

The GEM-30 was built using the same laser cavity as its predecessor, the GEM-25, but is based on an innovative platform where the power supply RF driver is integrated into the same housing as the laser head. This results in a compact, robust package that can operate in the most demanding environments. The GEM-30 provides 20% higher power than its predecessor and comes in a single, compact package, providing ease of integration and enabling previously unattainable desktop-sized, high-throughput marking and engraving systems.

"The advantages of the GEM-30 are numerous. You get the agility and ease of integration that comes with a compact, integrated platform, as well as the reliability and dependability that
comes with using a field-proven technology," said Ron Straayer, product manager at Coherent. "Plus, you get a laser with higher power levels at a lower price point."

Available in both air- and liquid-cooled models, the GEM-30 measures just 357 mm x 92.46 mm x 139.6 mm (14.06" x 3.64" x 5.49") for the air-cooled version; 357 mm x 92.46 mm x 92.79
mm (14.06" x 3.64" x 3.65") for the liquid-cooled version. The GEM-30 has a superior rise time of less than 60 microsec. It runs on 48 VDC (12 amps) and has a RJ-45 Ethernet connector. Mounting brackets are also available.

Originally founded in 1994 as DeMaria ElectroOptics Systems Inc. (DEOS), DEOS was acquired by Coherent Inc. in April 2001. Coherent-DEOS designs and manufactures carbon-dioxide lasers used in materials processing, electronics packaging, and research applications. The acquisition further enhanced Coherent's CO2 laser portfolio, making the company the only
manufacturer to offer a line of sealed CO2 lasers ranging in power from 25W to 500W.

Founded in 1966, Coherent, Inc. is a Standard & Poor's SmallCap 600 company and a world leader in providing photonics-based solutions to the commercial, scientific, and telecom markets.
Please direct any questions about the new GEM-30 to Ron Straayer, at 860/243-9557. For more information about Coherent, please visit our Web site at www.CoherentInc.com.

More from Mechanical Power Transmission