CO2 Laser Marker has 10 year life expectancy.
Press Release Summary: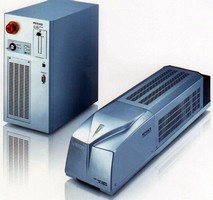 With 1 µm resolution, ML-G9300 Series marks materials such as stainless steel, resin, glass, rubber, and paper. Maintenance-free unit features 30 W of power with ±5% stability and can produce up to 600 characters/sec. Compliant with CE and FDA standards, machine can also be used for cutting resin film, boring, and wire sheath cutting. WaveGuide technology folds laser beam into Z shape, and design incorporates metallic hardware seal to suppress CO
2
leakage.
---
Original Press Release:

High-Speed Laser Marking, No Inks! and 10-Years Maintenance-Free



The Keyence ML-G9300 Series CO2 Laser Marker is the world's highest speed, high-power Laser Marker. The ML-G has a resolution of 1µm, 30 watts of power with ±5% stability and a speed of 600 characters per second. The marker is maintenance-free with a life expectancy of 10 years, twice that of conventional markers.

The high speed, power and stability of the ML-G9300 is ideally suited for production applications in the electronic components industry with its ability to mark components at high speeds with ultra-small characters. In the automotive industry, the 9300 enables input of CAD and JPG files as well as user-defined fonts. In the electrical industry, accurate reading of bar codes is a key factor and a variety of 2D codes can be used. In the food, chemical and cosmetic industries, sharply reduced character blurring ensures more accurate recognition, a major advantage on high-speed lines. The high resolution ML-G significantly increases marking definition from the conventional 15 µm down to 1µm, a major advantage with detailed fonts and small logo marking.

WaveGuide technology, an Industry First developed by Keyence, folds the laser beam into a Z shape providing higher power in less space. Increased power enables the marking of such materials as stainless steel, resin, glass, rubber and paper. The ML-G can also be used for machining purposes such as cutting resin film, boring and wire sheath cutting.

The ML-G9300 design incorporates a metallic hardware seal to suppress CO2 leakage thus further extending the life of the oscillator up to 10 years. The result is a significant cost saving in maintenance and line stoppage.

Stability is enhanced by the marker's dust-proof structure and noise immunity provided by a specially designed enclosure. A barrier wall completely separates the oscillator and scanner to prevent external air and dust particles from contaminating the scanner mirror, a common cause of blurring in conventional designs. The structure also includes EMF shielding for the entire marking head, preventing any external noise from effecting the scanner and control board.

Additional advantages of the 9300 Series include ease of installation, operational safety, compliance with CE and FDA standards, reduced set-up time, advanced image display, provisions for editing character strings and position during the marking operation, and exceptional application flexibility.

For further information, contact Phil Melore, Engineering Manager, Keyence Corporation of America, 50 Tice Boulevard, Woodcliff Lake, NJ 07677. Tel: 888-539-3623 ext 70703, Fax: 201-930-1883 Email: PhilM.HQ@keyence.com.

More from HVAC