CNC Vision Measuring System offers extreme rigidity.
Press Release Summary: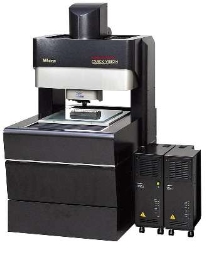 With measurement range of 350 x 350 x 150 mm, non-contact, Ultra Quick Vision Series features fixed bridge structure with independent X-axis and Y-axis drives. Crystallized glass scale offers resolution of 0.01 µm and linear expansion coefficient of 0.08x10
-6
/K. Four-quadrant programmable ring light features independently controlled light intensity. QVPAK® software provides 3D data processing and support of touch-probe measurement with video/TP calibration.
---
Original Press Release:

Mitutoyo® Ultra Quick Vision CNC Measuring Systems Feature Extreme Rigidity for Exceptional Accuracy


(Aurora, IL) Mitutoyo America Corporation announces availability of new Ultra Quick Vision Series CNC non-contacting measuring systems which employ advanced construction techniques to achieve extreme accuracy (U1XY = [0.3+L/1000µm, U2XY= [0.5+2L/1000µm, U1Z = [3+2L/1000µm, at 20° C).

The new Mitutoyo Ultra Quick Vision instruments feature a fixed bridge structure with completely independent X-axis and Y-axis drives; movement of one axis will not cause displacement of the other axis allowing for extremely high accuracies.

Also in pursuit of accuracy, the design of the Mitutoyo Ultra Quick Vision chassis focuses on minimizing vibration. FEM (Finite Element Modeling) analysis was used to determine placement of reinforcing ribs and to allocate mass so it can best contribute to rigidity while a hydrostatic air bearing system is employed to provide a sub-micron linearity of motion.

To further enhance accuracy, Ultra Quick Vision is equipped with a crystallized glass scale having a resolution and 0.01µm and a linear expansion coefficient of 0.08x10-6/K. As a result, thermal expansion of the scale is virtually eliminated as a factor affecting accuracy.

The Ultra Quick Vision is equipped with the unique Mitutoyo four-quadrant, programmable ring light (PRL) allowing easy adjust of illumination to suit the application. Light intensity in each of four quadrants is independently controlled, while the angle of incidence is adjustable from 30°- 80° for the degree of shadow most effective for measuring.

Ultra Quick Vision machines run Mitutoyo QVPAK® software featuring a sophisticated GUI, extended 3-D data processing functions and complete support of touch-probe measurement with video/TP calibration.

Optional software modules extend QVPAK functionality. A partial list of examples includes: QVPartManager® which allows for measurement of multiple parts - even for multiple, different parts - staged at one time, QVEio® which provides external machine control via an RS-232C interfaced PC, and
MeasureReport/E®, a Microsoft® Excel®-based routine for automatic report generation and printout.

SPECIFICATIONS
Measurement range
(XxYxZ)
350 x 350 x 150mm (14" x 14" x 6")

Resolution
0.01µm

Length standard
Reflective linear encoder (crystallized glass)

Sensor unit
High-resolution black & white CCD camera

Measuring accuracy (at 20° C)
U1XY= (0.3+L/1000) µm
U2XY = (0.5+2L/1000) µm
U1Z = (3+2L/1000)µm

Illumination system
Surface: Coaxial light and programmable ring light Contour: Stage light

Maximum drive speed
100mm/s

Table glass size
438 x 509mm (17.24" x 20.03")

Tube lens
1x/2x/6x (programmable power turret)

Maximum workpiece load
Height: 150mm (5.91")/Weight 40kg (88 lbs.)

Objectives
2.5x (1x, 5x: optional)

Magnification on 17" monitor
Using 1x objective: 32x (32x/64x/192x)
Using 2.5x objective: 80x (80x/160x/480x)
Using 5x objectives 160x (160x/320x/960x)

Mitutoyo America Corporation's nationwide network of Metrology Centers and support operations provide application, calibration, service, repair and educational programs for industry. This ensures that our 6,000+ metrology products will deliver measurement solutions for our customers throughout their lifetime. Contact Mitutoyo America Corporation, 965 Corporate Boulevard, Aurora, IL 60504. Phone: (630) 978-5385 Fax: (630) 820-7403 E-mail: info@mitutoyo.com Or visit our website at www.mitutoyo.com

More from Packaging Products & Equipment