CNC Turning/Milling Center offers multitasking capabilities.
Press Release Summary: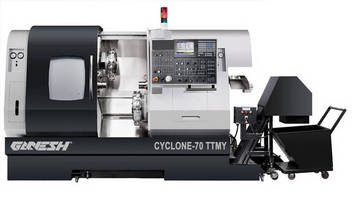 Suited for heavy-duty, complicated parts, Cyclone 70-TTMY is 40 hp machine with dual 16 station turrets and capacity for 32 live tools. Upper turret has full Y axis with ±1.968 in. of off-center movement, allowing completion of off-center works in same chucking. Other features include Mitsubishi M-720 CNC control and full C axis on main and sub spindle. Milling and drilling operations can be completed all in one operation on front- and back-side of work piece.
---
Original Press Release:

Heavy Duty Multitasking CNC Turning and Milling Machine



To Keep Manufacturing Industry in Pace, "Dual Spindle Dual Turret" technology is a key to success in today's competitive environment. Combine CNC Turning & Milling Machine front and back for a finished part next generation's CNC Multitasking – Multi Axis machine. Ganesh will show you how to meet tomorrow's needs today by unveiling the new multitasking CNC machines. Ganesh Cyclone Series new machine models are well-suited for those who are thinking about how to remain competitive by both getting the job done in one handling and having ample tooling flexibility to have multiple jobs setup on the machines at one time.



GANESH CYCLONE 70-TTMY:  Dual 16 Station Turrets 32 Live Tools MILL/TURN Center with "Y" on upper turret. Highly versatile 40HP machine perfectly suited for heavy duty complicated parts. Ganesh Cyclone 70-TTMY full "Y" axis on upper turret, full "C" axis on main & sub spindle with 8-axis, 71mm (2.75") bar capability and dual 16-station turrets for 32 tool positions with MITUSBISHI M-720 CNC control. Featuring full bar, chuck, and shaft machining capability; with 8" chucks.  The integral main and integral sub-spindle spindles both feature 4,000 rpm capability for fine surface finishes, as well as a "C" axis so that milling and drilling operations can be completed all in one operation on the front and back-side of the work piece.  The upper tool turret features a "Y" axis ±50mm (±1.968") of off center movement to allow the completion of off center works in the same chucking.



The fast .3-second indexing of the dual 16-station live tool turrets helps keep cycle times low, and any combination of live tooling, or ID and OD static tools, can be mounted to provide 32-tool stations to get the job done right.



The powerful MITUSBISHI AC-digital spindle motor provides ample power for roughing operations.  The machine power, coupled with the rigidity of heavily ribbed cast-iron construction enhances productivity and provides for enhanced surface finish and improved tool life.



The TTMY series also provides ample tooling for complex work and the ability to have an entire family of parts tooled up on the machine for fast job changeover. Ganesh Cyclone 70-TTMY Rugged 23,900 lbs machine ask our application department how you can improve your process.

More from Laboratory and Research Supplies and Equipment