CNC North, Inc. Unveils New Internal Grinding Machine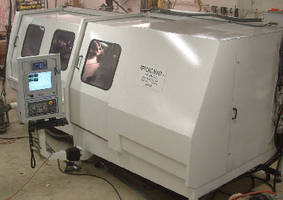 Contact: Jessica Boudreau, Sales & Marketing Coordinator

860-749-1780 Ext. 3014

jboudreau@cnc1.com

Since their incorporation in 2005 CNC North, Inc (Springfield, VT) has specialized in supporting, remanufacturing and providing design enhancements for Bryant Grinder CNC machines. The products and engineering developed for the Bryant models have allowed expansion of precision dressing systems and custom tooling packages for various OEM's and end users. The CNC North team combines more than 100 years of grinding expertise and their engineers and technicians have designed, built or serviced nearly every Bryant Grinder in operation today.

Marking their expansion from machine tool rebuilder to original equipment manufacturer, CNC North recently unveiled a two-axes internal grinder customized for an aerospace landing gear manufacturing application. For the better part of 2008, CNC North has been developing and building the revolutionary new grinding machine. Key features of the grinder include:

- Granite base (bed) allows for custom machine platforms allowing machines to be built per the customer's application and in some cases per the customer's floor space requirements. It provides a stable platform and can be engineered and delivered in a very short time period.

- Hydrostatic slides sized per the application. This particular machine features a 48" Z-slide and a 14" X-slide. The dovetail design provides cost reductions in the manufacturing process while maintaining the stiffness required for grinding applications.

- Precision, four bearing ½ Micron work head adapted to accept either a three jaw chuck or a custom face plate allowing use of the customer's existing tooling.

- Both the work head and steady rest are on a precision slide and operate manually by enabling an air bearing. This provides quick and easy adjustment of both devices and enables quick changeover for the customer?s various work parts.

- Custom Steady Rest. Various versions could be provided based on the customer's part diameter requirements.

- Custom wheel head mounting allowing both new and existing wheel spindles to be quickly mounted during part change over.

- Pivots that operate on an air bearing allow ease in taper adjustment both for the work/steady rest assembly as well as the wheel spindle assembly.

- Custom guarding. A three-door system was designed, based on input from the end user, to accommodate their setup and gaging requirements. Dimensions were customized to allow installation in the floor space available.

- Direct feedback absolute linear scales are standard thus eliminating any thermal concerns.

CNC North teamed with their sister-company CNC Engineering, Inc (Enfield, CT) to design the Fanuc based control system. Additionally, CNC North selected Open Vision Grind, an open architecture grind package from CNC Engineering, Inc. The system combines the reliability of the GE Fanuc control with the flexibility of an industrial PC to offer a conversational grind and dress-programming package.

While CNC North's new internal grinder uses the standard Open Vision Grind platform, CNC Engineering's software development team can create customized screen displays to address the needs of specific applications.

CNC North's forte into original equipment manufacturing will be marked by delivery and complete installation of the internal grinder by year-end and while the project has been a tremendous success, the company will continue to remanufacture grinding equipment, with a particular focus on Bryant Grinders. The company is already designing their next machine, an ID/OD multi surface large diameter bearing grinder. Future designs will build upon these original machine concepts and allow CNC North to provide very economical custom applications delivered in a timely manor.

For more information, please contact Patrick Harrington at (860)749-1780 or info@cnc1.com.

More from Electronic Components & Devices