CNC Multi-Tasking Center produces chucked workpieces.
Press Release Summary: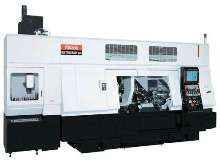 Multiplex Triple 8200Y features 2 horizontally opposed, 8 in. chuck headstocks with 12-tool turret for each side and lower turret with 9 tools that can work with both headstocks. Latter also provides 5 hp, 4,500 rpm milling spindle. Opposing spindles can be synchronized and simultaneously clamp long shaft workpiece for turning, milling, drilling, tapping, or Y-axis machining. Rapid traverse rates are 1,968, 787, and 1,968 in X, Y, and Z axes respectively.
---
Original Press Release:

Three Turrets, Twin Spindles, and a Gantry Loader Take Productivity to New Heights on New Multiplex Triple 8200Y from Mazak


For high production of chucked workpieces, the new Multiplex Triple 8200Y from Mazak exceeds all expectations for achieving high-speed, efficient production with no compromise on part accuracy and quality.

This newest Multiplex is a high-production CNC multi-tasking center featuring two horizontally opposed 8-in. chuck headstocks with a 12-tool turret for each side, and a third lower turret with nine tools that can work with both headstocks. Maximum swing is 12.6 inches. Moreover, the new lower turret with nine tool stations and a 5-HP, 4500-rpm milling spindle brings greater productivity and throughput. The opposing spindles can be synchronized and simultaneously clamp a long shaft workpiece for turning, milling, drilling, tapping or Y-axis machining. Smaller workpieces can be processed in the first spindle, then automatically transferred to the second spindle for subsequent operations. Or two workpieces can be machined simultaneously.

Productivity has been increased dramatically due to many factors. A new featured Z-axis super-positioning feature allows the lower turret and a upper turret to run for simultaneous machining, cutting cycle time. Rapid traverse rates are up in all three axes: from 1200 to 1968 ipm in X (upper turret); from 393 to 787 ipm in Y; and from 1299 to 1968 ipm in Z (upper turret). Compared to its previous model, milling spindle power is increased from 5 HP to 15 HP, and maximum milling spindle speed is 4500 rpm (with 6000 rpm optional).

Part variety also is greater as spindle bore diameter on the new Multiplex is 3 inches, up from 2.4 inches, meaning bar work capacity is 2.5 inches in diameter as opposed to 2 inches on the earlier model.

New design features on the Multiplex Triple 8200Y contribute to high machining accuracy. Symmetrical construction balanced by turrets and electrical cabinets on either side of the machine result in uniformly minimal heat distortion, with minimal effect on machining accuracy. Heat distortion is further minimized by an air gap between the headstock and headstock base. Oil and air lubrication in the turret and chilled oil circulating through the turret's mill housing also minimize any temperature increase.

Convenient maintenance is also a highlight of the new Multiplex. All units requiring daily maintenance are centrally located with convenient operator access. See-through screen panels and other visual indicators make status checks quick and easy. Grease lubrication reduces waste and extends coolant life due to no tramp oils.

The Multiplex Triple 8200Y also features an optional gantry loader robot for unattended operation and production of an automotive cylinder liner. Operations could include OD roughing and finishing, ID roughing and finishing, and Y-axis milling, with operations being automatically handed off between left and right spindles.

30 Years of Machine Tool Innovation

In 2004, Mazak Corp. celebrates its 30th anniversary at its Florence, KY, complex. In 1968, Mazak opened its first sales office in Long Island, NY, and moved to Greater Cincinnati in 1974. Expanding 12 times since then, the Kentucky manufacturing operation is now fully ISO 9001:2000 certified. The entire Florence campus includes a Lean Manufacturing Facility, National Technology Center, and Optimum Customer Support Center. Also established are Technology Centers in such major market areas as Los Angeles, Houston, Chicago, Atlanta, Hartford, and Mexico. These facilities provide complete customer support in manufacturing solutions, process applications, service, parts, and customer training. Mazak produces more than 30 innovative models of machine tools at its Florence facility. The Nexus series of CNC turning centers and vertical machining centers is the latest and most successful high-performance Mazak machine tools manufactured in the United States. For more information, visit the Mazak website at www.mazakusa.com.

More from Controls & Controllers