CNC Honing System profile-hones diesel cylinder liners.
Press Release Summary: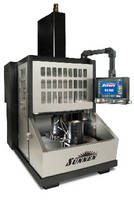 Featuring 20 hp vertical spindle with max stroke length of 60 in., max stroke rate of 90 fpm, and 0-300 rpm speed, SV-500 Series creates whole-bore, constant crosshatch, and custom profiled or tapered bores up to 12 in. dia, or larger. Servo-stroking system enables honing of complex parts, such as those with interrupted, tandem, blind, or geometrically flawed bores. Electromechanical design ensures consistent performance over time, eliminating drift inherent to hydraulic machines.
---
Original Press Release:

New Servo Honing System First to Automatically Profile-Hone Diesel Cylinder Liners



Corrects/customizes bore geometry and produces industry's highest accuracy. Maximum 1524 mm stroke ideal for oil/gas industry parts.

Custom bore profiles for diesel cylinder liners are among the new capabilities introduced on the SV-500 Series vertical CNC honing system. The SV-500 Series produces the industry's highest accuracy and surface finish specs, using patented technology that allows creation of whole-bore, constant crosshatch, as well as custom profiled or tapered bores. The patented machine is ideal for profile machining of diesel cylinder-liner bores to manufacturer's specs, while eliminating the "flattening" of the crosshatch angle at stroke-reversal points, sometimes required for MilSpec parts. Bore profile display and tool-control technology allow the operator to easily achieve the desired bore shape, surface crosshatch angle, or near-elimination of crosshatch.

Available with a stroke length up to 1524 mm (60"), the SV-500 Series' 15-kW (20-hp) spindle is ideal for bores up to 300 mm (12") diameter or larger, depending on the application. Its powerful spindle permits high stock removal rates on exotic materials, such as titanium and compacted-graphite iron. Standard spindle speed is 0-300 rpm, with options of 0-600 and 0-1200 rpm, and a maximum stroke rate of 27.4 meters/min (90 ft/min). Capable of using legacy tooling from Sunnen GH-210 and SV-3/SV-4 machines, it is also ideal for low to mid-volume machining of oil and gas industry components, such as gas compressors, liner hangers, telemetry units, valves, pump liners and similar parts.

An electromechanical design, the SV-500 delivers servo-accurate performance that remains consistent over time, eliminating the drift inherent to hydraulic machines. Its patented servo-stroking system brings a new level of automation and simplicity to honing complex parts, such as those with interrupted, tandem, blind or geometrically flawed bores. New capabilities include custom bore profiles, automatic geometry correction, and auto-dwell for bore straightness, ideal for blind bores. Vertical spindle orientation produces superior results with interrupted bores, where the weight of the tool and drive shaft on a horizontal hone increases the potential for washout around ports.

Equipped with the fastest, most precise linear tool feed on the market, the SV-500 Series can be configured as a single-spindle, manually loaded machine or a fully automated multi-spindle system. Sunnen system-engineers each SV-500 machine as an optimized processing package, complete with custom guarding, custom risers and fixturing, tooling, abrasives, gaging and coolants, as required by the application. The versatile platform is available with a malleable-iron base or T-slot table just above floor level, or with various workholding and table options at waist height. Part indexing options include in-line shuttles for transfer lines, as well as 2- and 32-position rotary tables or (fourth axis) servo-index table with infinite positioning. The open-base design allows easy pass-through of large parts and makes the machine highly adaptable for parallel manufacturing in a lean environment. Stainless steel guarding all around is maintenance free.

To realize highest unmanned processing efficiencies, the SV-500 can be equipped for in-process air gaging with Sunnen's PH hone head - or with post-process air gaging. PH tools are designed to produce optimum straightness and roundness with multiple stone configurations. They are available with conventional, diamond or CBN metal-bond abrasives, specifically engineered for a given application. A plug gauge shutoff is also available for processes that do not require the feed back or precision of air gauging.

Setup is fast and easy, all handled from the front of the machine without raising a cover. An intuitive interface and advanced PC-based control simplify the honing process to allow anyone with multi-axis experience to run the machine like an expert.

The SV-500 Series provides great cost, size and flexibility advantages over hydraulic honing systems of comparable capacities. Vertical design conserves shop floor space.

Additional information on the SV-500 vertical honing machine series is available from Sunnen Products Company, 7910 Manchester Rd., St. Louis, MO 63143. Tel: 1-800-325-3670; fax: 314-781-2268 or email sales@sunnen.com.


More from Mechanical Power Transmission