CMOS Driver suits microwave switching applications.
Press Release Summary: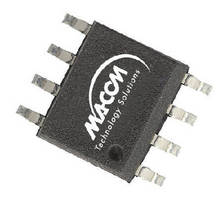 Housed in SOIC-8 package, single-channel MADR-009269 translates TTL control inputs into complementary gate control voltages for GaAs FET microwave switches and attenuators. Output HIGH level ranges from 0–2.0 V to optimize intermodulation products of FET control devices. For driving PIN Diode Circuits, outputs are nominally switched between +5 V and -5 V. MADR-009269 utilizes high-speed analog CMOS technology to achieve low power dissipation at moderate to high speeds.
---
Original Press Release:

M/A-COM Technology Solutions Announces New Single Channel CMOS Driver



Driver is used to Translate TTL Control Inputs into Complementary Gate Control Voltages For FET Microwave Switches and Attenuators



Lowell, MA, – M/A-COM Technology Solutions Inc. (M/A-COM), a leading supplier of high performance analog semiconductor solutions, introduced today a new single channel CMOS Driver for Microwave Switching Applications.



The MADR-009269  is a high performance single channel CMOS Driver that is used to translate TTL control inputs into complementary gate control voltages for GaAs FET microwave switches and attenuators. The device boasts high voltage CMOS technology, lower power dissipation and positive voltage control; making it an excellent solution for customers. Packaged in a low cost SOIC-8 package, the MADR-009269  is ideal for customers looking for a low price driver with convenient implementation.



"The MADR-009269 CMOS driver greatly simplifies the bias requirements for a range of switching and attenuation applications allowing our customers to achieve faster time-to-market," said Paul Beasly, Product Manager. "The low power dissipation, fast response time and convenient package make this integrated device an attractive solution that shrinks board space and improve costs."



The output HIGH level ranges from 0 to +2.0V to optimize the intermodulation products of FET control devices. For driving PIN Diode Circuits, the outputs are nominally switched between +5V and -5V. The MADR-009269 utilizes high speed analog CMOS technology to achieve lower power dissipation at moderate to high speeds; allowing customers to efficiently cover most microwave switching applications.



The table below outlines typical performance:


| | | |
| --- | --- | --- |
| Parameter | Units | MADR-009269 |
| Positive DC Supply Voltage | V | 5 |
| Negative DC Supply Voltage | V | -5 |
| Positive to Negative Supply Range | V | 10 |
| DC Output Current High/Low | mA | -1 |
| Maximum Input Rise or Fall time | ns | 500 |
| Package | - | SOIC-8 |

 

Samples of MADR-009269 are available from stock. Final datasheets and additional product information can be obtained from the M/A-COM website at: www.macomtech.com.



ABOUT M/A-COM TECHNOLOGY SOLUTIONS INC.

M/A-COM Technology Solutions (www.macomtech.com) is a leading supplier of high performance analog semiconductor solutions for use in radio frequency (RF), microwave, and millimeter wave applications. Recognized for its broad portfolio of products, M/A-COM serves diverse markets, including CATV, wireless infrastructure, optical communications, aerospace and defense, automotive, industrial, medical, and mobile devices. M/A-COM builds on more than 60 years of experience designing and manufacturing innovative product solutions for customers worldwide.



Headquartered in Lowell, Massachusetts, M/A-COM is certified to the ISO9001 international quality standard and ISO14001 environmental management standard. M/A-COM has design centers and sales offices throughout North America, Europe, Asia and Australia.



M/A-COM Tech, M/A-COM Technology Solutions, The First Name in Microwave and the M/A-COM logo are trademarks of M/A-COM. All other trademarks are the property of their respective owners.



FOR SALES INFORMATION, PLEASE CONTACT:

North Americas -- Phone: 800.366.2266

Europe -- Phone: +353.21.244.6400

India -- Phone: +91.80.43537383

China – Phone: +86.21.2407.1588



MEDIA CONTACT:

Husrav Billimoria

M/A-COM Technology Solutions Inc.

978-656-2896

Husrav.Billimoria@macomtech.com

More from Electrical Equipment & Systems