CMM Solution inspects bearings, ring gears to 19.68 ft dia.
Press Release Summary: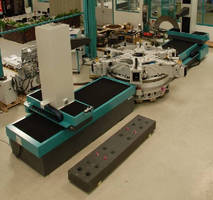 Able to determine complete circumference of rings with one inspection part program, system combines dual-arm CMM measuring technology with precision air bearing mechanics of Wenzel WGT series of Gear Checkers and Renishaw scanning probes. Arms are mounted to table, which is mounted on granite base, and feature precision linear guideways for X axis. Y and Z axes feature finely tuned preloaded roller bearings. Hydrostatic rotary table has 7.21 ft dia and handles loads to 100,000 lb.
---
Original Press Release:

Innovative Wenzel CMM Solution Provides Inspection Cell for Ring Gears for Large Construction Cranes



Wenzel combines proven dual-arm CMM measuring technology with precision air bearing mechanics of Wenzel WGT series of Gear-Checkers and Renishaw Scanning probes.

When CMM builder Wenzel GmbH was presented the challenge of designing a CMM measuring solution for inspecting large ring gears and bearings used by a manufacturer of large construction cranes, Wenzel designed and built a special CMM machine that combined their standard components and proven dual-arm measuring technology with the precision air bearing mechanics of the Wenzel WGT series of Gear Checkers and Renishaw scanning probes, Fig. 1. The inspection machine is capable of inspecting bearings and ring gears up to 6000mm (19.68 ft) diameter.

The dual-arm machine design, Fig. 2, is similar to what Wenzel has applied in the automotive industry to measure car bodies and body components. In this design, the CMM measuring arms are each mounted to a table that is mounted on a large corresponding granite base. The measuring arms feature high accuracy linear guideways for the X-axis. The Y and Z-axes feature finely tuned preloaded roller bearings providing minimum friction and operational wear. The base units are positioned opposite each other with a rotary fixture table in between. Both arms measure the large rings concurrently and the metrology of each measuring arm is harmonized through the use of a specially designed calibration tool. The ring gears and bearings are located and clamped on the 2200mm (7.21 ft) diameter hydrostatic rotary table that can handle loads up to 100,000 lbs. The complete circumference of the rings are inspected by a single inspection part program. The two measuring arms are equipped with Renishaw SP80 Scanning probes. Application software is also provided that can calculate the optimum fitting tolerance for inner and outer bearing components.

Wenzel anticipates that this "Large Ring" inspection solution will have additional application in the aircraft engine, wind energy and construction equipment markets.

Xspect Solutions, Inc. headquartered in Wixom, Michigan, and is a wholly owned subsidiary of Wenzel GmbH of Germany. Xspect Solutions is the Number 3 supplier of both traditional CMMs and GMM gar measuring machines to the North American metrology market.
Wenzel GmbH manufacturers its products intrinsically accurate, negating the need for the huge error compensation files to achieve quoted accuracies which have become the norm for most manufacturers in past years. The black granite used by Wenzel is processed in-house at their impressive manufacturing facilities in Germany, not imported from China pre-finished...which in now the industry norm.

Send all Inquiries To:
Keith Mills, Xspect Solutions, Inc.
47000Liberty Drive
Wixom, Michigan 48393
Tel: (248) 295-4300
Fax: 248-295-4301
kmills@XspectSolutions.com

More from Material Handling & Storage