CMM Retrofit Service upgrades existing machines to 5 axes.
Press Release Summary: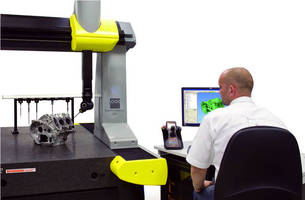 Applicable to all Renishaw brands, CMM retrofit program is single-source service that utilizes UCC2 universal CMM controller and MODUS(TM) metrology software, touch trigger, and 5-axis sensors. It also includes REVO measuring system, to upgrade to 5-axis scanning capability, which offers continuous scanning at speeds up to 500 mm/sec and captures up to 4,000 data points/sec. Site work is performed within 1 week and service includes customer training.
---
Original Press Release:

Quality Expo Advance Release Renishaw Booth No. 4925



End-to-end solution delivers latest CMM speeds and capabilities at retro investment levels. Includes Renishaw controller, software, choice of touch-trigger or scanning probes, installation and training.

June 2009 - Renishaw rolls out its new certified coordinate measuring machine (CMM) retrofit program at the 2009 Quality Show, offering several options to upgrade existing machines to state-of-the-art capabilities - including REVO(TM) five-axis ultra-high-speed scanning. The comprehensive retrofit program applies to all brands of machines, including Hexagon and Zeiss, and ensures a future upgrade path with an all-Renishaw package of controller, software and probing system. The Renishaw retrofit(TM) service enables manufacturers to raise CMM inspection throughput by factors of four, five and more, increase measurement automation, collect more data points for form measurement, and utilize open source software and future probing technology developments. According to the company, new technology in the pipeline includes surface finish measurement fully integrated within the automatic CMM inspection program, available mid-2009. Renishaw has increased its own retrofit staff and is establishing retrofit partners in North America to meet demand.

The new single-source service from the inventor and global leader in automated probing technologies gives CMM users performance beyond the capabilities of many new CMMs - yet at a fraction of a new machine investment, said Ben Taylor, Assistant Chief Executive at Renishaw. "The new retrofit program addresses critical manufacturing needs - faster throughput, greater process control, and higher automation efficiencies - while giving management an affordable means to improve competitiveness," he said. The program utilizes Renishaw's UCC2 universal CMM controller and new MODUS(TM) metrology software, along with the company's unmatched range of touch-trigger, scanning and 5-axis sensors, and proven, global service operations.

"While the REVO five-axis measuring system has been available on new Mitutoyo, Wenzel, Dukin and Metris CMMs, users of some other machines have not been able to take advantage of this game-changing technology," noted Taylor. "We can now offer users of all brands of CMMs a complete solution that features leading-edge technology in every respect, backed by the security of service and support direct from Renishaw."

The retrofit service begins with an on-site survey and calibration benchmarking of the customer's CMM. Drawing on this information and its experience with hundreds of retrofits worldwide, Renishaw generates a quote detailing the scope of work and the performance metrics the upgraded machine will achieve. On acceptance of the proposal, Renishaw's specialty retrofit team develops, assembles, and tests the machine-specific retrofit kit. The kit includes all elements of the retrofit - mechanicals, electricals, machine control, inspection software, etc. - enabling plug-and-play installation. Site work can typically be performed within a week. The retrofit service includes customer training. Upgrades receive a warranty period on service and support, with contract service and support available afterwards. Repairs, where needed, are done by repair-by-exchange (RBE) service on all Renishaw components, keeping machine downtime to barest minimum.

"We've created a rigorous methodology and comprehensive service that provide customers with state-of-the-art capabilities at the least cost, risk and time interruption," said Brian Gow, Marketing Manager of Renishaw's CMM Division. "This is a complete, one-stop solution. All elements in terms of technologies and expertise are available within a single organization - probes, heads, scanning sensors, styli and stylus changers, encoders, measurement software, machine calibration, and field service and support. Our CMM retrofit experience over hundreds of machines uniquely positions us with knowledge of all brands of CMMs," he noted. The Renishaw Retrofit service is accredited by appropriate regional authorities, such as A2LA in the U.S. he added.

The fast lane to faster inspection

The CMM retrofit program offers an instant path for upgrading to high-speed five-axis scanning capability with the REVO measuring system. Upgrading to the REVO system can greatly increase CMM productivity and data-gathering speed, said Denis Zayia, Renishaw's CMM business manager for the U.S. The REVO five-axis measuring system optimizes probe access to part features, minimizing need for part re-orientation, probe changes and recalibrations. Unlike conventional 3-axis CMMs and machines with indexing heads - where every stylus and position change requires a tip qualification - REVO is a continuous process requiring only a single tip calibration procedure that is then accurate for all angles of rotation. REVO can save hours on set-up time and qualifying routines on complex geometry parts, according to Zayia.

Just as important to productivity improvement, REVO high-speed scanning capabilities can greatly raise throughput and CMM part flow, he said, while capturing clouds of data for greater process control. The REVO system's continuous scanning capability measures at speeds up to 500 mm/sec., compared to 5-15 mm/sec for most conventional CMMs. REVO can trace part contours, capturing up to 4,000 data points a second to let manufacturers better measure and control feature form. This is particularly valuable for determining functional fits and interfaces, such as on bores, cylinders, valve seats, gears, etc, where variation can be critical, said Zayia.

Open architecture control

Unlike the proprietary control systems on most CMMs, a Renishaw Retrofit gives machines an open architecture for application flexibility, adaptability and continuous improvement capability, stressed Zayia. He termed this "future proofing." Renishaw's UCC2 universal CMM controller is at the heart of the CMM retrofit. Combined with a Renishaw servo power amplifier, it enables precision control of up to five axes of simultaneous motion on machines of all sizes and provides a single-box interface to all Renishaw sensors. Sophisticated machine error mapping is provided in an open format, allowing users to potentially perform their own recalibration, while temperature compensation is also available.

Most importantly, the UCC2 complies with the I++ DME specification, giving users the freedom to use any metrology software that features an I++ client, such as Renishaw's new MODUS(TM) software, included in the retrofit program. MODUS provides a powerful platform for 5-axis measurement. Key features include CAD-driven offline programming with full 5-axis simulation; native DMIS support; certified mathematical algorithms; powerful text and graphical reporting; and flexible output of results data.

For more information on CMM retrofits, contact Denis Zayia, CMM business manager, tel: 847-286-9953, email denis.zayia@renishaw.com.

Jeff Seliga
Renishaw Inc.
5277 Trillium Blvd.
Hoffman Estates, IL 60192
Tel: 847.286.9953
Fax: 847.286.9974
jeffrey.seliga@renishaw.com

More from Test & Measurement