CMM is designed for measuring automotive body assemblies.
Press Release Summary: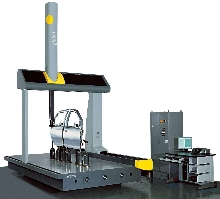 DEA GLOBAL(TM) eXtra CMM measures mid-sized to large automotive body assemblies and sub-assemblies on shop floor. Offered in 4 models, measuring ranges vary from 3300 x 2000 x 1500 mm to 4000 x 2000 x 1800 mm. Features include steel work table, sintered silicon carbide vertical ram, and forced air circulation. Bellows covers protect X and Y axis guideways. CMM also uses Slant Bridge Technology(TM), optical scales, and PC-DMIS(TM) measurement and inspection software.
---
Original Press Release:

New Global eXtra Measures Mid-Sized to Large Car Body Assemblies Quickly and Efficiently


NORTH KINGSTOWN, RI--The new DEA GLOBAL(tm) eXtra coordinate measuring machine available from Brown & Sharpe is designed for measuring mid-sized to large automotive body assembly and sub-assemblies on the shop floor. The four models available offer measuring ranges from 3300 x 2000 x 1500 mm to 4000 x 2000 x 1800 mm. The larger measuring envelope also facilitates the use of fixturing systems such as the DEA FIVE U-nique system.

The GLOBAL eXtra is designed with a low all-steel work table for improved integration with part transfer systems. The table is isostatic and does not require dedicated foundations. Its wide-section sintered silicon carbide vertical ram ensures better rigidity and thermal behavior compared with traditional materials. Forced air circulation stabilizes table temperature. Bellows covers protect X and Y axis guideways.

Like other machines in the GLOBAL line, the GLOBAL eXtra features Slant Bridge Technology(tm). This exclusive design provides optimum stiffness-to-mass ratio with a lower center of gravity and a wider bearing separation than competitive bridge designs. GLOBAL eXtra CMMs can be equipped with a variety of data gathering sensors to perform a wide range of measurement and inspection tasks. Touch trigger probes and analog probes can be quickly exchanged to measure prismatic features or scan contours and free form surfaces in the same measurement cycle.

The GLOBAL eXtra ACTIV(r) Structural Thermal Compensation System(tm) uses a web of sensors throughout the machine structure and proprietary software to compensate, in real time, the 3D volumetric performance of the measuring machine.

Machine movements are detected on all axes by AURODUR(r) optical scales, featuring a high resolution and certified coefficient of thermal expansion. .

GLOBAL Point, Click and Scan Technology(tm) combines and optimizes temperature and accuracy compensation systems, motion controllers and advanced algorithms to support high-speed, high-accuracy analog open and closed loop scanning applications. This advanced technology facilitates high speed scanning by automatically generating scan and probe paths and inserting moves to avoid obstacles. Variable High Speed Scanning (VHSS) is a firmware modification in the common controller that controls scanning speed in real-time based on curvature of the path. VHSS improves scanning accuracy and throughput by optimizing 3D vector path control for parts with a changing rate of curvature.

For car body features that are difficult to access, the GLOBAL eXtra can be equipped with the exclusive DEA CW43L continuous wrist allowing the use of extensions up to 570 mm.

The GLOBAL eXtra is supplied with PC-DMIS(tm) measurement and inspection software. PC-DMIS makes use of CAD-based interactive graphic interfaces and supports the creation of in-line and off-line measuring programs, complete with graphic part models, measurement path simulations and graphic representation of results.

Brown & Sharpe, Inc., 200 Frenchtown Road, North Kingstown, RI 02852-1700, 1-800-766-4673, FAX (401) 886-2552, www.brownandsharpe.com. .

More from Architectural & Civil Engineering Products