Cloud-Based Control Systems offer CDMA option.
Press Release Summary: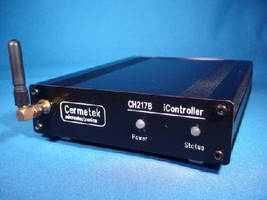 Available with CDMA cellular radio, web-based AquaMon™ iController™ manages agricultural systems for vineyards, orchards, and farms. RSVP software running on web server processes, stores, and analyzes sensor data from field, permitting grower to monitor field parameters and control pumps/valves from tablet, smart phone, or PC. Offering web-based remote monitoring and control, CH2178 iController collects sensor data and moves it to secure web server via Ethernet, Wifi, GSM, or CDMA link.
---
Original Press Release:

Cermetek Introduces New CDMA Option for Moving Sensor Data to the Cloud



The CDMA Option Increases Choices of Cellular Providers



MILPITAS, Calif., -- Today Cermetek announced another option for moving sensor data to the cloud.  A CDMA cellular radio is now available for AquaMon(TM) and CH2178, iController(TM).  AquaMon is a web-based information system for agricultural systems. AquaMon previously connected to the Internet only through a GSM modem.  The CH2178 offers simpler web-based remote monitoring and control with Ethernet, Wifi, GSM and now CDMA communications options.  The CDMA option gives Cermetek AquaMon and CH2178 customers access to Verizon and other CDMA service providers. 



AquaMon systems manage Precision Agriculture for vineyards, orchards, or farms. Small growers use a single node system to access weather and soil conditions. A GSM or CDMA modem moves sensor data to our web-based, RSVP software. Large growers utilize multiple wireless sensor nodes linked to a network hub over a short haul wireless network. The network hub connects to the Internet over a GSM or now CDMA network. The Cermetek RSVP software running on the web server processes, stores, and analyzes the sensor data from the field permitting the Grower to monitor field parameters and control pumps and valves from his tablet, smart phone, or PC. 



The CH2178 also collects sensor data and moves it to our secure web server via an Ethernet, Wifi, GSM or now CDMA link.  The RSVP software resident on the server archives the sensor data for viewing at anytime from anywhere with any browser equipped mobile or computing device.  RSVP can also compare sensor data to limits set by the user.  When those limits are reached, the user may program RSVP to issue an Email or Text Alert or initiate corrective action by activating a CH2178 control output.



"The cellular link to the web server is critical in these applications," said Cermetek President Henry Roskos. "Unfortunately, service providers don't provide uniform coverage, particularly to rural areas. We can't improve cellular service but we can give our customers a choice so they receive the best service for their area."



The CDMA option is available now. Installed systems may be returned for a factory upgrade to CDMA.



Cermetek Microelectronics, Inc. provides communications solutions for a wide variety of industries.  Cermetek solutions include modems, Ethernet, wireless sensor networks, cellular communications and web based data management. 



For Further Information

Mr. Steve Clary                                                                      

Cermetek Microelectronics, Inc.                                        

374 Turquoise Street.                                                          

Milpitas, CA 95035                                                               

(408) 942-2200                                                                     

Email

Web: rsvp.cermetek.com   

More from Materials