Clock Generator exhibits low jitter in broadcast equipment.
Press Release Summary: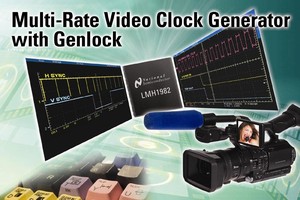 Available in 5 x 5 mm 32-pin LLP® package, Model LMH1982 clock generator with genlock delivers HD clock output jitter of 40 ps peak-to-peak, and offers reference clocks for video ADCs, DACs, and FPGA transceivers. It provides 2 LVDS output clocks with selectable frequencies for SD (27 or 67.5 MHz) and HD (74.25, 74.25/1.001, 148.5, or 148.5/1.001 MHz) resolutions. Unit operates from 3.3 and 2.5 V supplies and supports NTSC/525i, PAL/625i, 525p, 625p, 720p, 1080i, and 1080p video timing.
---
Original Press Release:

National Semiconductor Unveils Industry's Lowest-Jitter Clock Generator for Professional and Broadcast Video Applications



Multi-Rate Clock Generator's High-Integration and Miniature Size Simplify Video Equipment Design

NATIONAL ASSOCIATION OF BROADCASTERS SHOW, LAS VEGAS - April 14, 2008 - A new multi-rate video clock generator with genlock from National Semiconductor Corp. (NYSE:NSM) delivers high-definition (HD) clock output jitter as low as 40 ps peak-to-peak. The LMH1982 provides reference clocks for video analog-to-digital converters (ADCs), digital-to-analog converters (DACs) and field-programmable gate array (FPGA) transceivers. These reference clocks ensure a system's 3-Gbps (3G), HD and standard-definition (SD) serial digital interface (SDI) output jitter is in compliance with the Society of Motion Picture and Television Engineers (SMPTE) video standards. National will demonstrate the LMH1982 at the NAB show in Las Vegas, April 14-17 at booth N1720.

The LMH1982's high-integration and small 5 mm by 5 mm package size simplifies the design of video cameras, digital recorders and a wide range of video editing and post-production equipment. The LMH1982 can replace discrete and FPGA phase-lock loops (PLLs) with multiple voltage controlled crystal oscillators (VCXOs), while offering low total power dissipation of 250 mW. Only one external VCXO is required to operate the LMH1982. The device can generate two simultaneous SD and HD output clocks and an output top of frame (TOF) timing pulse. In genlock mode, these output signals can be phase-locked to H and V sync signals applied to either of the reference ports.

The LMH1982's low-jitter output clocks are capable of driving FPGA serializers without the need for additional clock cleansing. The device's integrated PLLs can synchronize the output clocks to an analog timing reference from National's LMH1981 multi-format video sync separator or a digital timing reference from an SDI deserializer. The use of an external loop filter offers additional configurability to optimize rejection of reference input timing jitter.

Key Features - LMH1982 Video Clock Generator with Genlock Offered in a small, space-saving 32-pin LLP® package, National's LMH1982 3G/HD/SD multi-rate video clock generator provides two simultaneous low-voltage differential signaling (LVDS) output clocks with selectable frequencies for SD (27 MHz or 67.5 MHz) and HD (74.25 MHz, 74.25/1.001 MHz, 148.5MHz or 148.5/1.001 MHz) resolutions. The LMH1982 supports NTSC/525i, PAL/625i, 525p, 625p, 720p, 1080i and 1080p video timing. An I2C compatible bus interface is included for programming device registers and reading device status. The LMH1982 operates from 3.3V and 2.5V supplies.

Pricing and Availability
Samples of the LMH1982 are available now, with high-volume quantities scheduled to be available the end of May 2008. The LMH1982 is priced at $24.95 each in 100-unit quantities. For more information, easy-to-order samples and an evaluation board, visit www.national.com/pf/LM/LMH1982.html. National's Amplifiers Made SimpleSM WEBENCH® online design tool supports a large selection of amplifiers. To explore these solutions, visit webench.national.com. To learn more about designing with amplifiers, visit our library at http://national.com/onlineseminar/#amps.

Solutions Supporting Video Systems
National's high-performance analog technology can help video engineers differentiate their products. National provides the key functions every system engineer requires, including operational amplifiers, power management, data conversion, interface and serial digital video products, audio subsystems, display ICs and networking products.

About National Semiconductor
National Semiconductor, the industry's premier analog company, creates high-value analog devices and subsystems. National's leading-edge products include power management circuits, display drivers, audio and operational amplifiers, interface products and data conversion solutions. National's key analog markets include wireless handsets, displays, communications infrastructure, medical, automotive, industrial, and test and measurement applications. Headquartered in Santa Clara, Calif., National reported sales of $1.93 billion for fiscal 2007, which ended May 27, 2007. Additional company and product information is available at www.national.com.

Company Name: National Semiconductor
Address 1: 3689 Kifer Road
Address 2: M/S G1-124
City: Santa Clara
State: CA
Zip: 95051
Country: United States
Phone: 408-721-6929
URL: www.national.com

Contact Name: Mark Alden
Title: Public Relations Manager
E-mail: mark.alden@nsc.com

Related