Clip speeds trapeze hung installations.
Press Release Summary: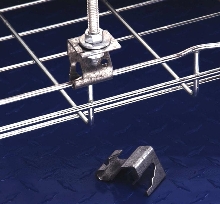 AS Trapeze Clip integrates FAS (Fast Assembly System) by folding down a tab to securely hold wire cable tray in place. Clip is fastened to threaded rod by snapping it into proper sized groove, and folding tab upwards. It supports common sizes of threaded rod including 1/4, 3/8, and 1/2 in.
---
Original Press Release:
Cablofil Trapeze Hung Installations are Twice as Fast with New AS Trapeze Clip

Cablofil has improved one of it's best selling support accessories, making trapeze-hung installations twice as easy and twice as fast with Cablofil wire cable tray! The new design of the AS Trapeze Clip integrates Cablofil's FAS (Fast Assembly System) by simply folding down a tab to securely hold Cablofil wire cable tray in place. The AS Trapeze Clip is fastened to threaded rod by snapping it into the proper sized groove, and
folding a tab upwards. This method is re-engineered to provide support for all common sizes of threaded rod - 1/4", 3/8", and 1/2". No special tools are needed, only a screwdriver or wrench! Eliminating the need for poly grommets, the new design makes trapeze-hung installations even faster!

By cutting down on unnecessary support systems and complications, Cablofil's AS Trapeze Clip proves to provide a more profitable and less time consuming installation. Other support accessories are available from Cablofil, including a wide range of brackets and profiles that are adaptable to virtually every type of application.

Cablofil wire cable tray is constructed of precision-engineered, high quality, welded steel wire. It will adapt to almost any configuration, enabling it to handle 90-degree turns, easily twist around obstructions and make multiple level changes. Cablofil wire cable tray is designed to save time and includes everything required to make installation effortless. A comprehensive range of accessories makes any project simple to complete.

For more information about the AS Trapeze Clip or Cablofil cable tray, call Cablofil at 800-658-4641, or visit the Internet at www.cablofil.com
More from Portable Tools