Clear Rocker Switch Boot ensures complete environmental sealing.
Press Release Summary: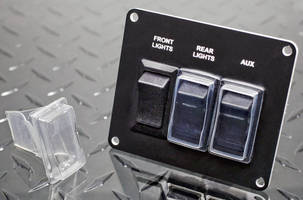 Regardless of rocker switch size or configuration, crystal clear rocker switch boots cover top of switch and also penetrate enclosure to eliminate need for special cut-out. This custom sealing solution helps prevent even sealed rocker switches exposed to harsh environments from getting gummed in areas that threaten exposure to dirt, salt, and oil. Using this product, any standard switch may be converted into completely sealed switch.
---
Original Press Release:
ZaGO's New Crystal Clear Rocker Switch Boots
Newark, New Jersey - As a custom sealing solution for rocker switches ZaGO Manufacturing company has developed the most advanced worry-free switch cover in the industry. No matter the size or configuration of the rocker switch our crystal clear rocker switch boots cover not only the top of the switch, but also penetrate the enclosure eliminating the need for a special cut-out. When a "Sealed Switch" is not enough! When switches are exposed to harsh environments they need added protection; often, even a "sealed switch" will not keep out environmental hazards. Customers have expressed concerns that sealed switches still get "gummed" up when exposed to dirt, salt, oil, etc. ZaGO's rocker switch covers provide added protection, sealing not only the top of the switch but also sealing the cut-out. ZaGO's new crystal clear design enhances the appearance of the switch while economically converting any standard switch into a completely sealed switch. Specializing in Customization ZaGO specializes in designing economical, environmentally responsible sealing solutions that will ensure the long lasting and dependable operation of switches. ZaGO's technical group is always available to work alongside its customers' engineers to create a unique design to fit their specifications and ensure the highest quality product. To view our full line of sealing products please visit our website at www.zago.com. ZaGO Manufacturing Company has been has been producing sealing products for nearly twenty years in Newark, New Jersey. Operating out of a state-of-the-art facility in south Newark in close proximity to Newark Airport, the Port of Newark and all of New Jersey's major transportation and mass transit routes, ZaGO makes daily shipments throughout the United States, Central and South America, Mexico, Canada, Europe and Asia.