Clear PVC Pipe is UV resistant.
Press Release Summary: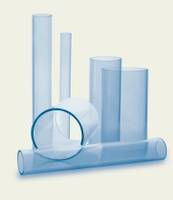 Suited for exposure to sunlight, EnviroKingUV(TM) features UV blocking technology that reduces harmful UV light wavelengths from penetrating plastic while allowing beneficial wavelengths through. Piping is produced from rigid, transparent PVC compound with cell classification of 11553 per ASTM D1784. Corrosion resistant piping suits wide range of outdoor applications including biofuel processing, carbon recycling, filtration, and sight glass.
---
Original Press Release:
Harvel Introduces Industry's First UV Resistant Clear PVC Piping
March 19, 2009 EnviroKingUV(TM) offers ideal solution for photobioreactor tubing and other outdoor applications (Easton, Pa.) -- Harvel® Plastics, Inc., announces the launch of EnviroKingUV(TM), a clear PVC piping that is suitable for exposure to sunlight. Unique UV blocking technology reduces harmful ultraviolet light wavelengths from penetrating the plastic while allowing beneficial wavelengths through. EnviroKingUV(TM) offers a cost-effective solution for photobioreactor tubing and other outdoor applications exposed to sunlight where transparency is required. Harvel EnviroKingUV(TM) piping is produced from a unique, rigid, transparent PolyVinyl Chloride (PVC) compound with a Cell Classification of 11553 per ASTM D1784. This material, which shows a slight blue tint, has been specifically formulated to block damaging UV light. Harvel EnviroKingUV(TM) is patent pending. "EnviroKingUV(TM) was developed to meet the demands of innovative technologies and emerging green industries," says Bill Weaver, Harvel's director of technical services. "It's ideally suited for a wide range of outdoor applications including biofuel processing, carbon recycling, process R&D, filtration, and sight glass." Harvel EnviroKingUV(TM) possesses the well-known benefits of rigid PVC such as exceptional corrosion resistance; smooth interior walls for unimpeded flow and reduced sediment buildup; fast, reliable solvent-welded connections; good pressure-bearing capability; and ease of handling and installation, to name a few. All of these important attributes are now available in a unique transparent product with UV stability. About Harvel Harvel® Plastics, Inc. is a leading U.S. manufacturer of high-quality PVC and CPVC industrial piping and duct systems and other thermoplastic extrusions, including HydroKing® CTS CPVC plumbing piping, CPVC fire sprinkler piping, Harvel LXT® ultrapure water piping, FlameTech(TM) low flame and smoke containment piping, and Harvel Clear(TM) PVC piping. With manufacturing and warehouse facilities in Pennsylvania, California, and Texas, Harvel supplies wholesalers across North America plus export markets. For more information on Harvel, contact Harvel Plastics, Inc., P.O. Box 757, Easton, PA 18044-0757; phone: 610-252-7355; fax: 610-253-4436; website: Harvel.com; e-mail: Harvel@Harvel.com. Harvel Plastics, Inc. 300 Kuebler Road Easton PA 18040
Related